In a previous job, I was lucky enough to work with a laser cutter. I decided to experiment after seeing lots of old records at boot sales, often without sleeves so they probably wouldn't play anyway. There's a lot of beauty and nostalgia in old records, so I thought of cool ways to reuse them. Clocks seemed like the perfect idea, and with the laser cutter, possibilities were endless!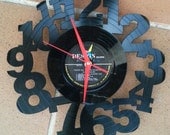 12" Vinyl Record Wall Clock, Large Numbers, upcycled, repurposed, sustainable, retro, 30cm, black, recycled, fantastic gift, silent hands
Upcycled wall clock from a vinyl record.Dimensions: 30 cm diameter (~12 inches) Weight: about 300 g. The clock takes one "AA" battery. The battery is not included.Silent clock mechanism....