I made this Twisted Wire Pallet Lamp with various upcycled materials. I used a USB lamp because it has a warm, inviting light.
Make a light of your design, and find inspiration in my Twisted Wire Pallet Lamp!
Connect it to a USB slot in a computer or into your phone charger. By upcycling materials, this lamp is much more eco-friendly than a store-bought one. If you don't have the time, you can purchase one here.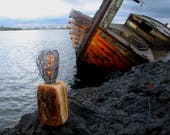 Wood and wire lamps
Lamp is for usb and it have very nice light. You can connect it to usb in computer or in Your phone charger. Lamps is make from recycling material and its eco friendly....
Have you ever seen a Beer2D2? Make a pallet wood diffuser necklace.