What a funky color and pattern it turned out!
This is a crocheted purse/bag made out of four pajama pants for the shell, a mat cover for the lining, and my mother's kimono for the pockets. I cut all the pants to make yarn. The pants prints, including "The Simpsons" and "South Park", made this bag so colorful and interesting! It is really fun for me to think about the perfect color and material combination.
This kimono pattern is vivid and cute. I like using kimono fabrics because vintage kimonos have beautiful patterns and they are made of high-grade quality fabrics. Handles are made from new leather.
The bag closes with a zipper, there is one zippered pocket outside, and one zippered pocket inside, and two non-zippered pockets inside. It is durable and functional, too.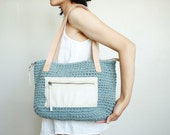 Blue crochet purse, blue crochet bag, crochet purse, upcycled bag, upcycled purse, tote bag with zipper, recycled bag, T-shirt yarn bag
Blue crochet purse, tote bag with zipper, upcycled purse. A one of a kind, hand crocheted, and hand crafted bag by me. Made from a BED SHEET for the shell, a SHIRT for the lining, and my MOM'S...