I pondered long and hard what to do with an old Singer treadle sewing machine. I wanted it to be more than a table or desk. Additionally, I wanted the dark wood to go with the black enameled metal, so I chose walnut. I finished this Singer Chair with Tung oil followed by a coat of polyurethane.
I had some leather from a thrown-out sofa that I skinned on the curb. The treadle wheel screamed to be inset into the back. I had to trim the center frame down to give the seat the correct height. This project took about 10 hours, including finishing and re-do of a few parts to get it looking right but it turned out to my satisfaction.
But What About The Actual Sewing Machine?
Editor's note: Upcycling old treadle sewing machines are quite popular these days. However, please don't just set the machine head unit (the actual sewing machine) out to be recycled. There are many vintages and antique sewing groups that like to restore the machines, or if they aren't in a condition to restore, they can be "parted out" – to save another vintage/antique machines. You can contact them through social media sites or place an ad in your local online sales site to keep them from the junk pile. :D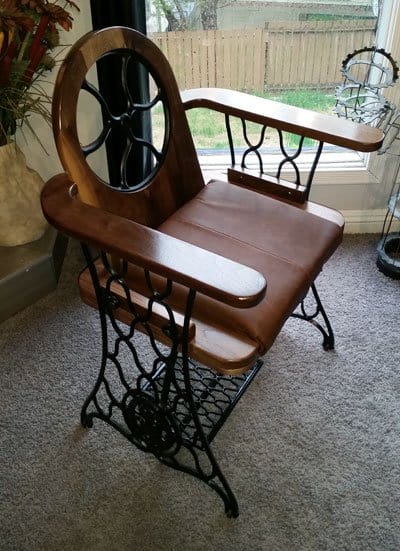 Here's a chair made from Bicycle Parts! Ever seen Star Wars Stuff made from Pallet Wood?