Are you living near a forest? If yes, you should take a walk and start to pick up some branches to enhance your home decoration as you'll see below. Even if you are not living near a forest, branches are easy to transport (if not too big for sure…) and will give a wonderful natural touch to your interior design. No more discharge not bringing back home this wonderful branch you found during your last forest trip! Below are more than 60 simple and creative ideas with wood branches that should inspire you to re-design your home decoration!
A simple branch as a coat & bag hanger will beautify your entrance!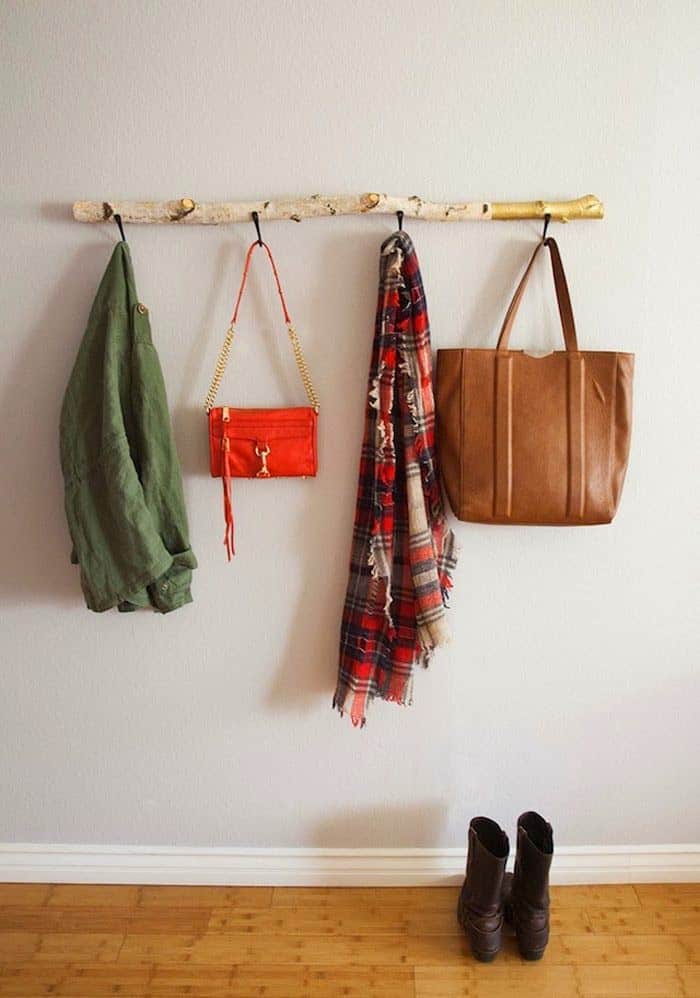 A simple branch fixed to the ceiling with two ropes could act as a nice shabby chic dressing.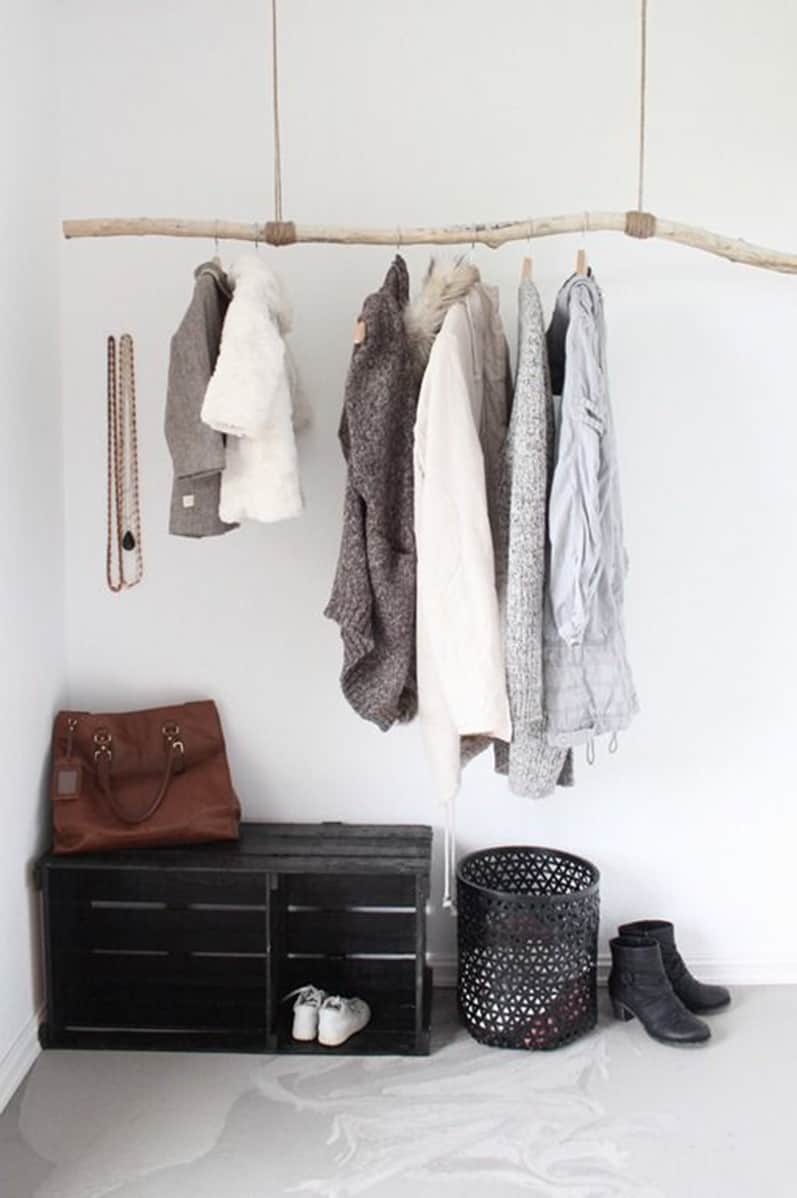 More than a branch, this fir tree trunk could be used as an original dressing, don't trash your Christmas tree, you could make an original dressing from it!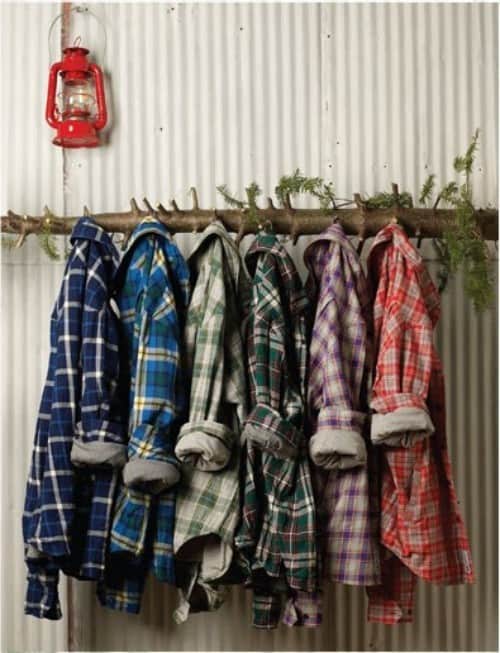 Love this dressing made from a white painted curved branch.
A huge branch fixed between your floor & ceiling and voila, you have an original coat hanger!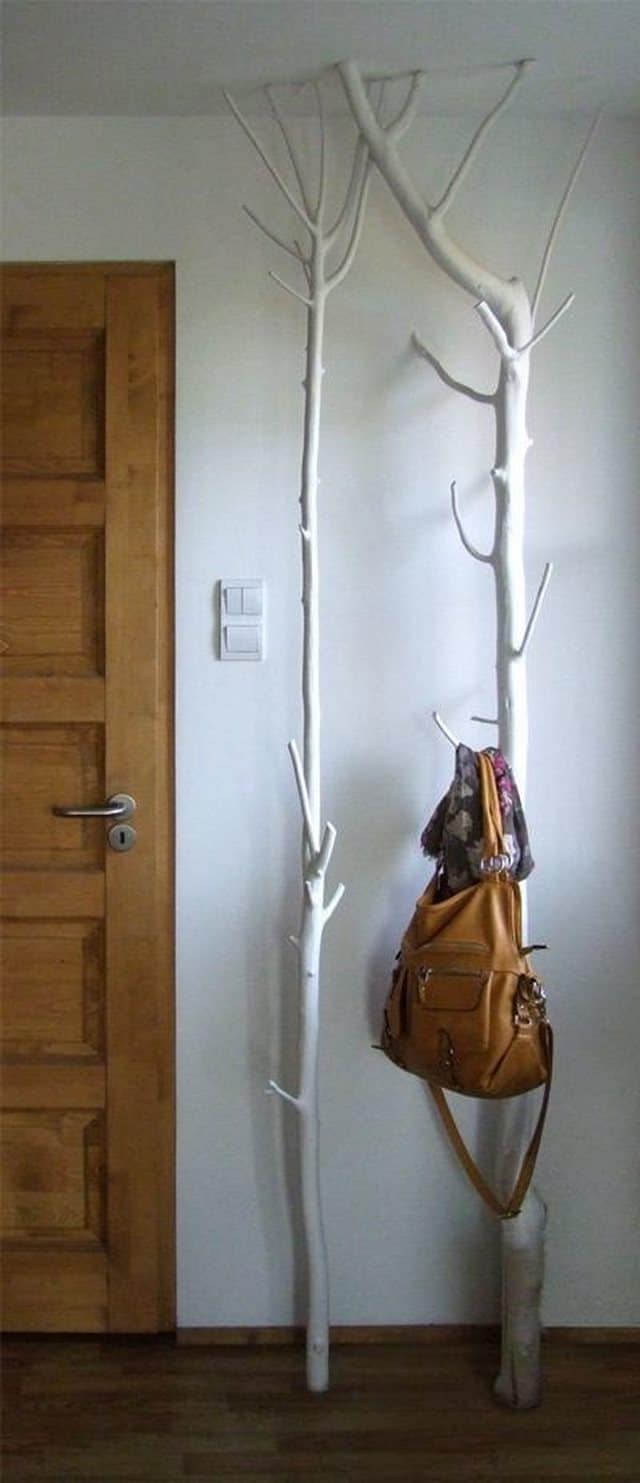 Painted branch fixed on the entrance wall make a beautiful coat rack!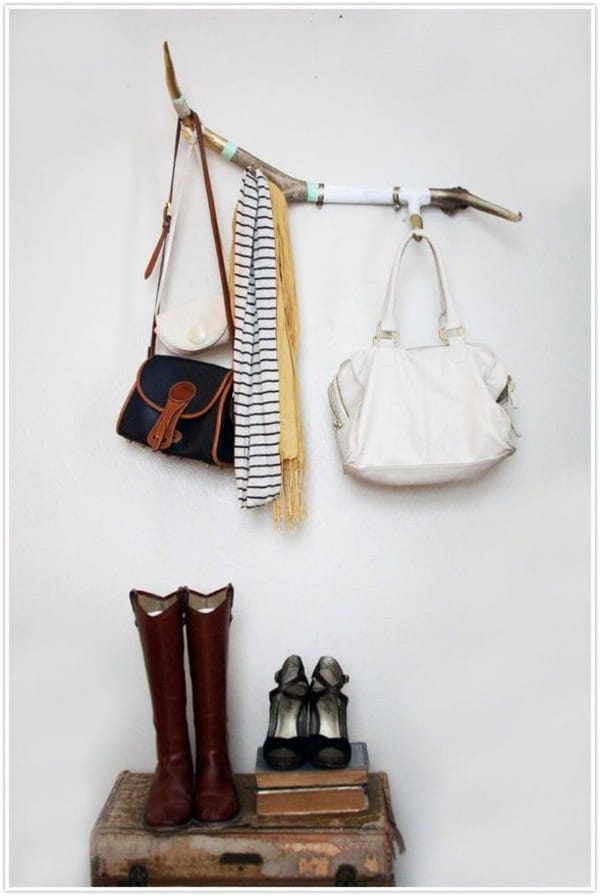 A driftwood branch fixed on the wall make a delightful coat hanger & decoration.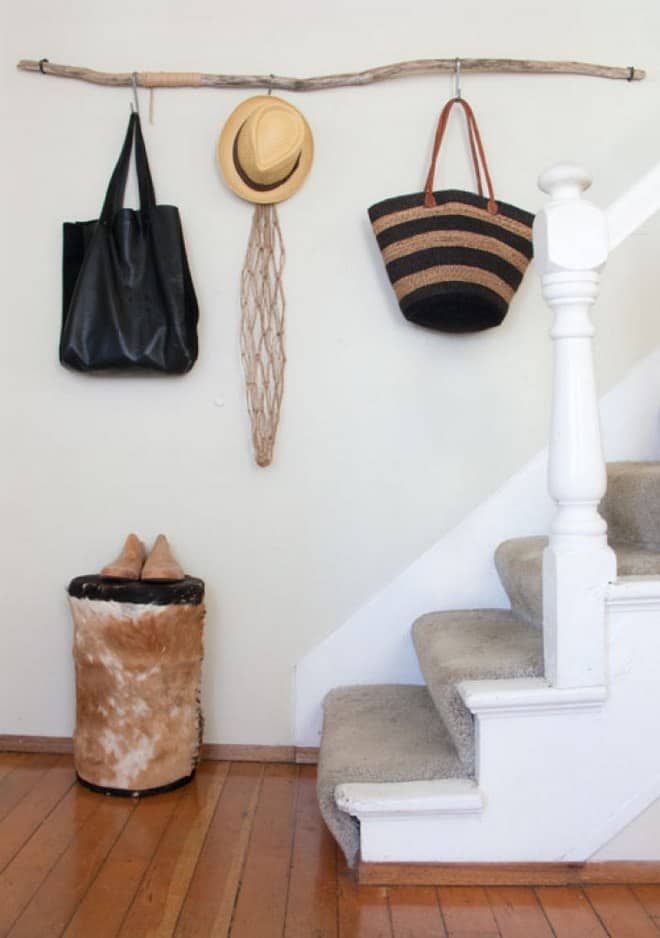 Homemade ladder from two wood pickets and several branches. Could be used as a towel or dress rack in your bathroom.
What do you think of these originals coat hooks made from branches? I love them and will keep this idea for my next hooks!

Love this coat rack frame from repurposed pallet boards and branches! So creative!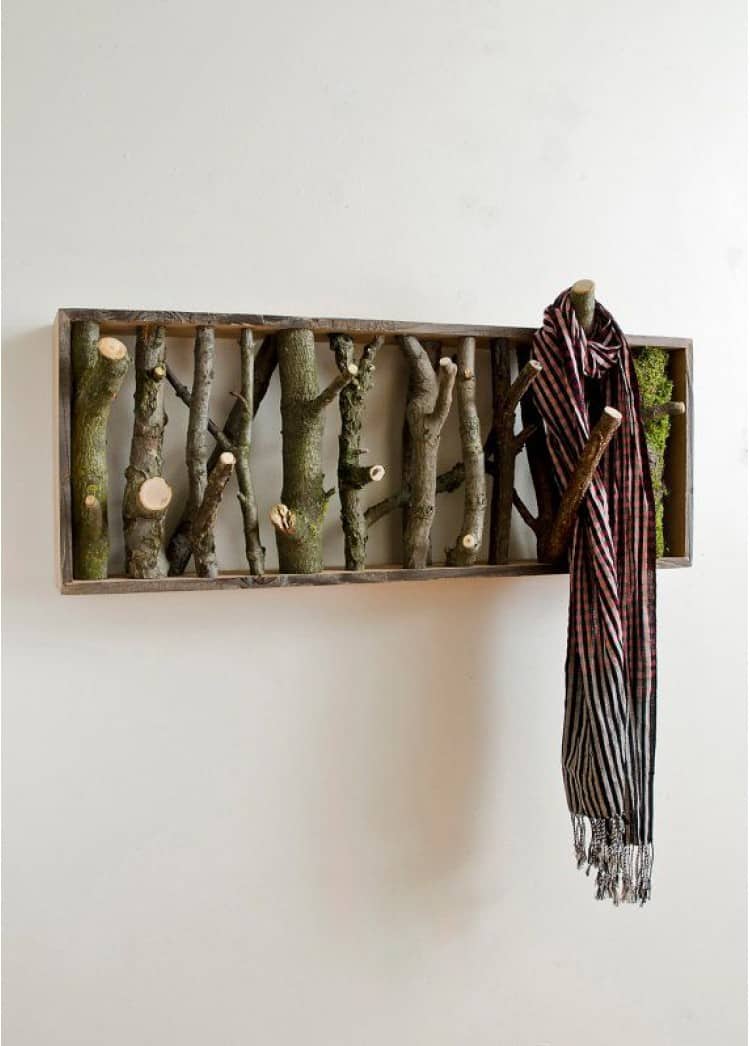 Simple coat hooks from repurposed tree branches!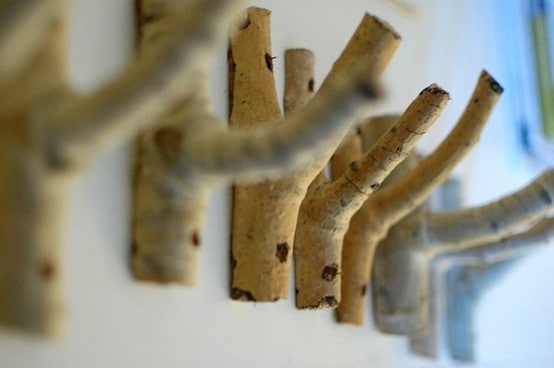 Coat hooks & hanger from simple tree branches.
The most simple hangers you can make with repurposed tree branches!
How to pimp your shelf? Simply use a tree branch as a decoration element, clever!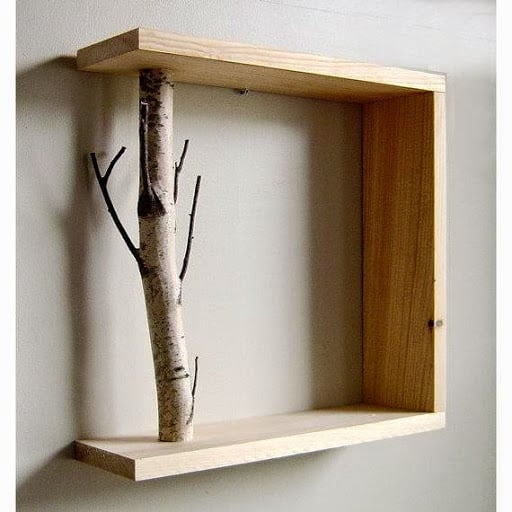 How white painted tree branches can make a gorgeous natural touch in your interior design when used as shelves.
Another example of a branch used as a shelf decoration.
Beautiful rustic shelf with its lovely branch planter!
A tree branch as a drawer handle, no more in need of Ikea anymore. :)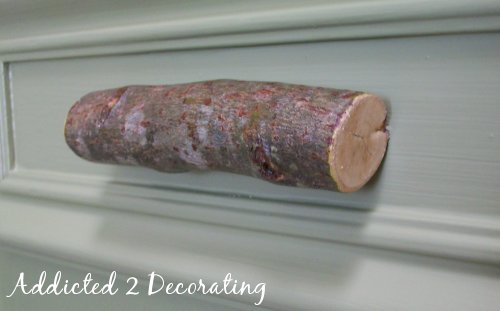 Another example of tree branches used as drawer handles!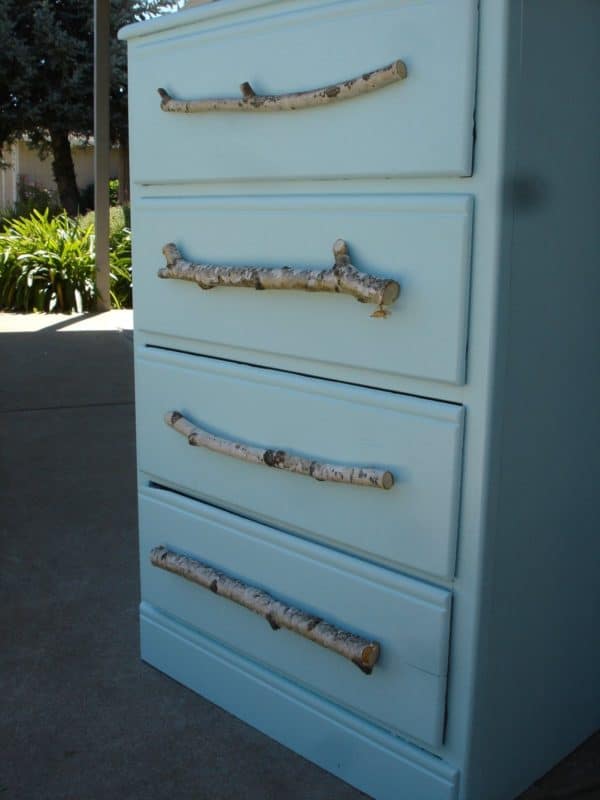 Charming buffet with tree branches as drawer handles. So Shabby Chic!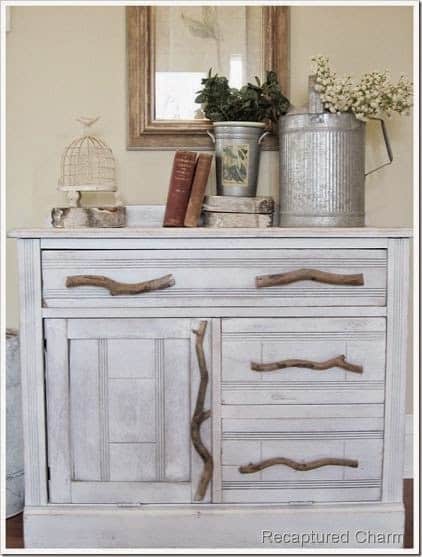 A branch could also be used as a nice and lovely photo frame.
Fix a branch on your wall, hang some photos to it and voila! You have a lovely photo frame for your decoration!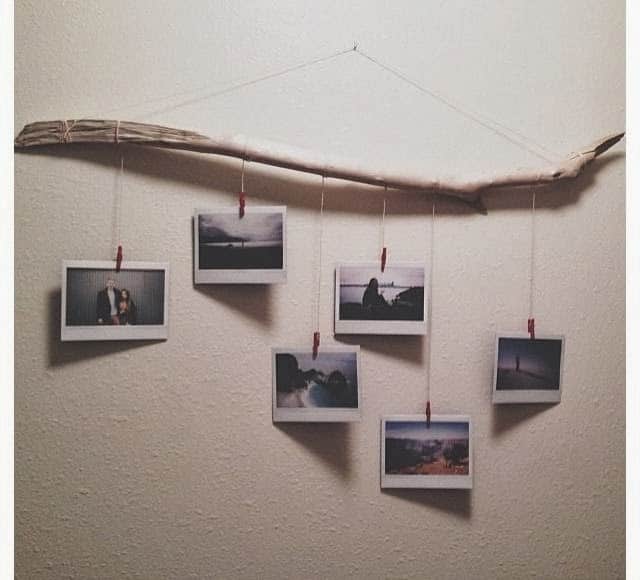 Another cool inspiration for a customized tree branch as a photo frame. Really like this one!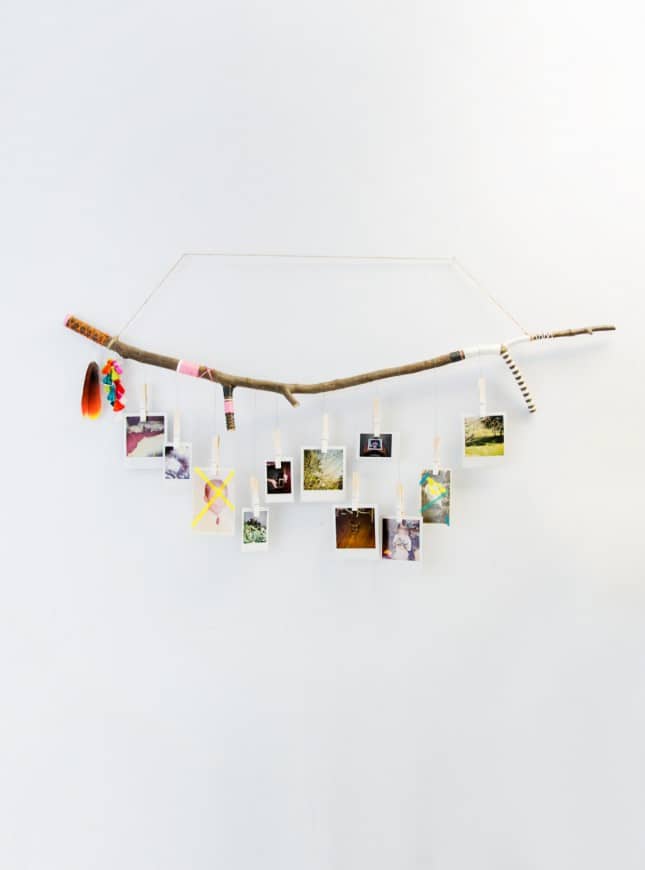 Countdown to Christmas with this simple DIY advent calendar that brings a tiny forest indoors. All you need is a branch adorned with a sprig of fragrant pine.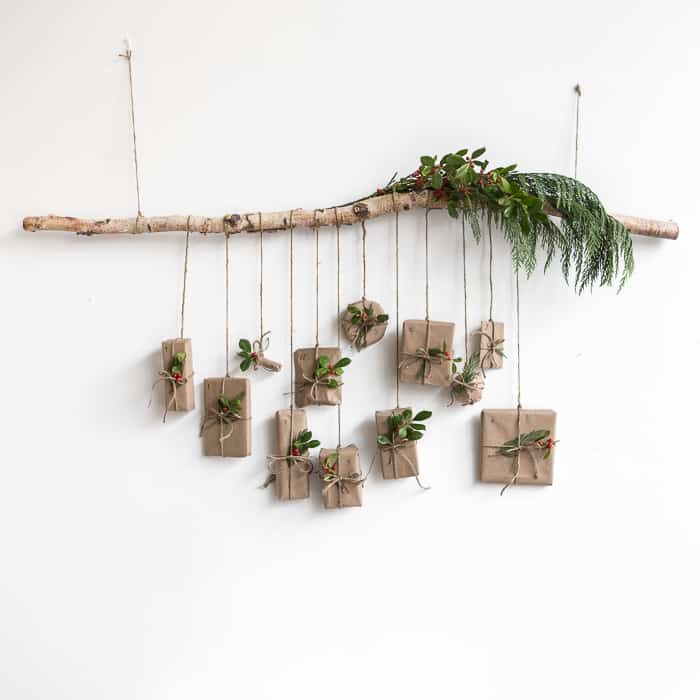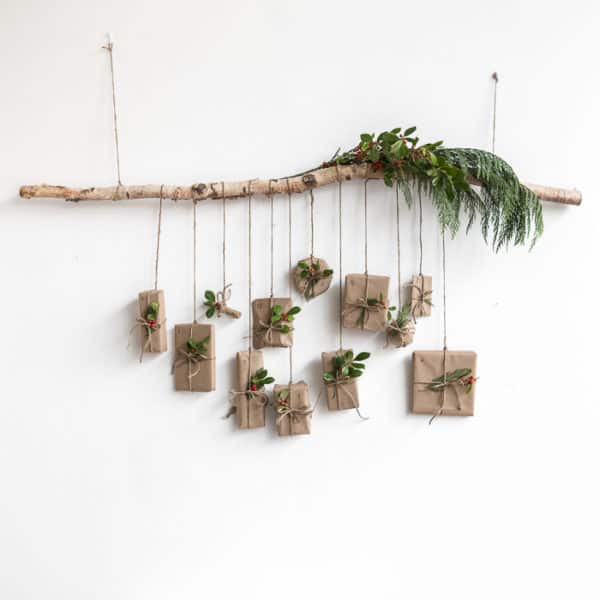 Another example of a branch photo frame.
Family pictures suspended to a simple branch with thin ropes.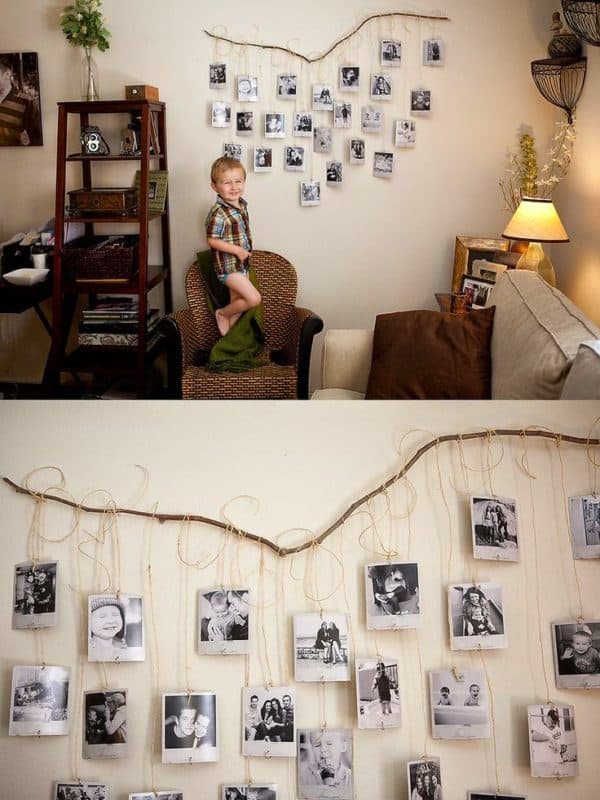 Amazing hanging lights made from tree branches, with a red wire for the contrast. You can use LED bulb for these lights.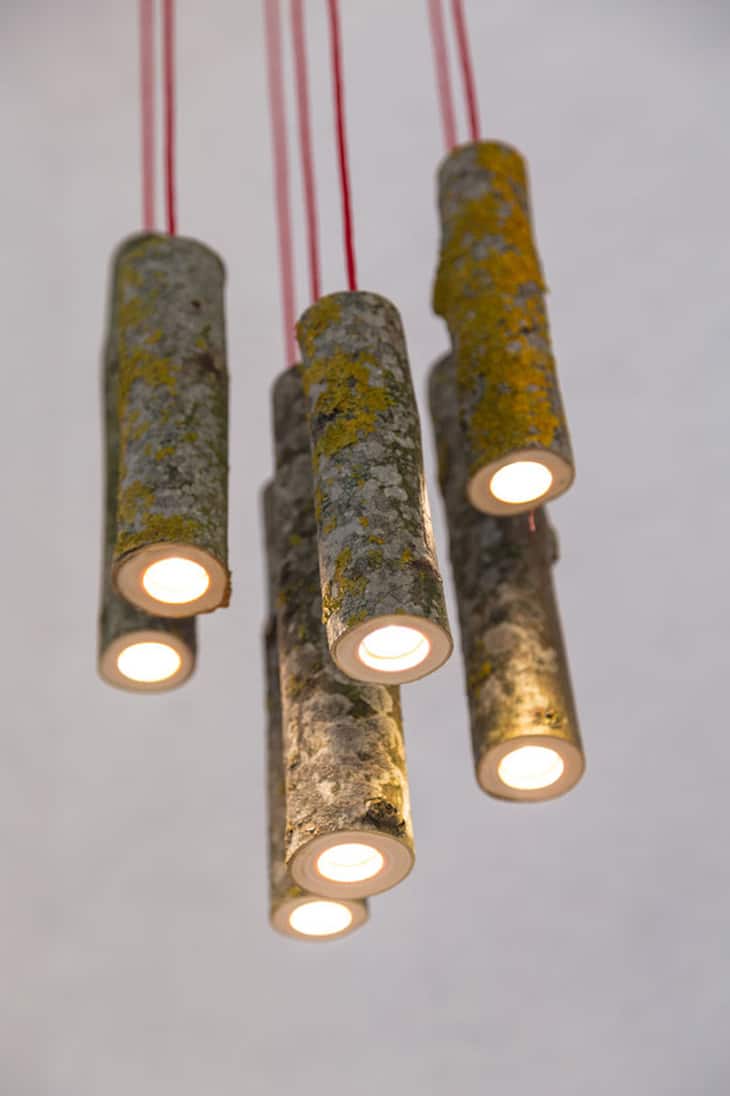 A long branch is used to hang a lampshade! Clever idea for a natural touch in your home design!
Desk lamp made with a tree branch, copper tube, and a light bulb.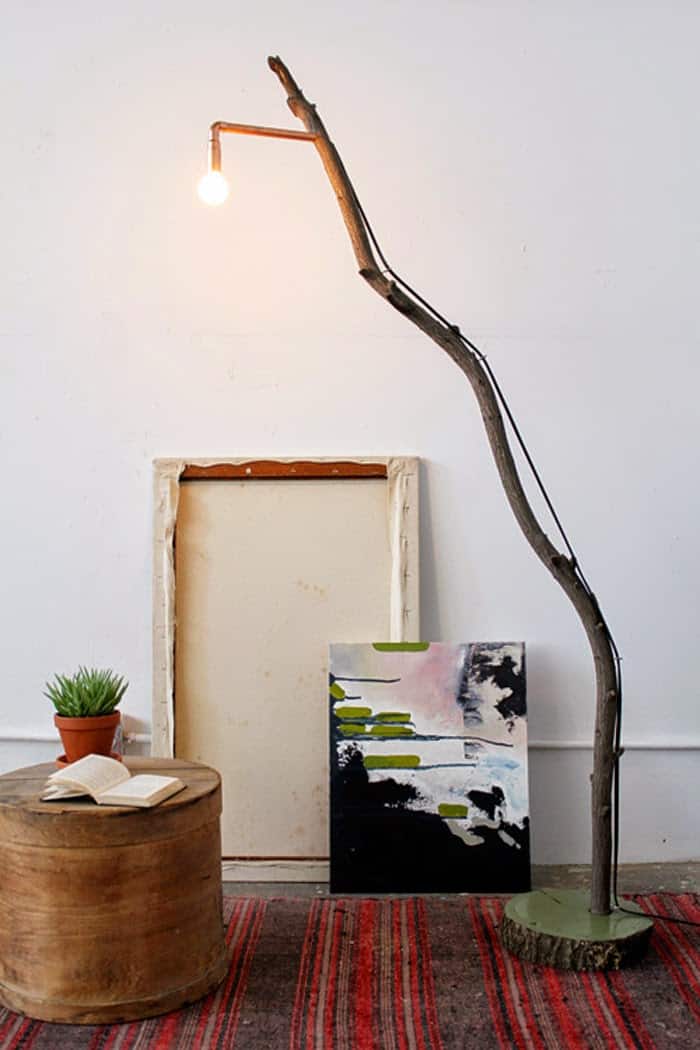 Floor lamp from a tree branch.
Gorgeous birch branch floor lamp.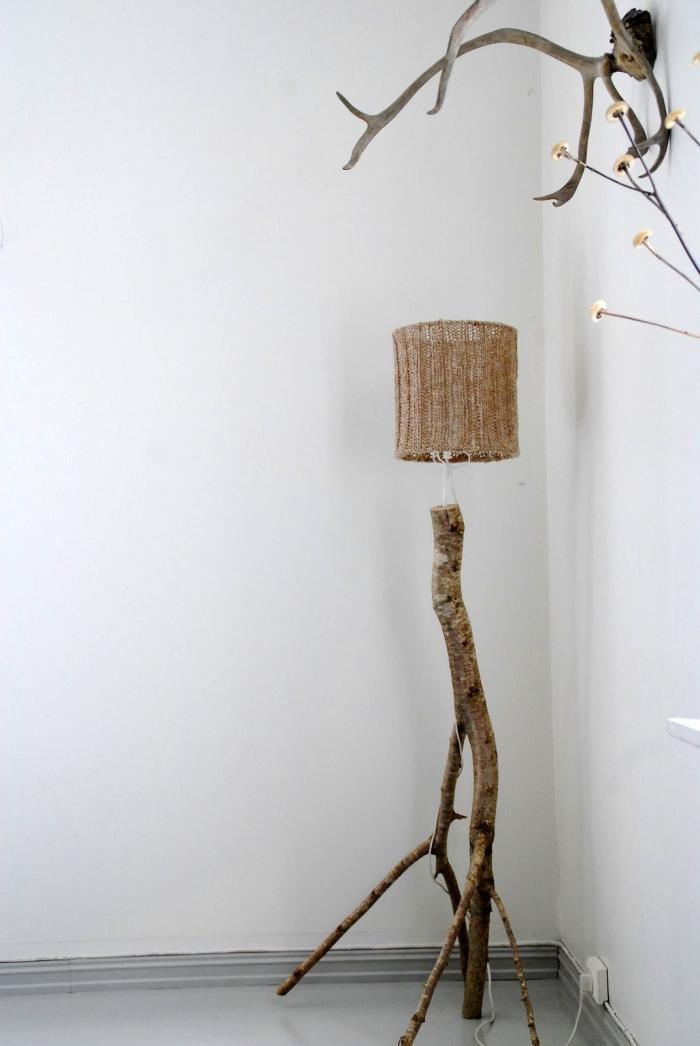 Bedside table lamp from tree branches.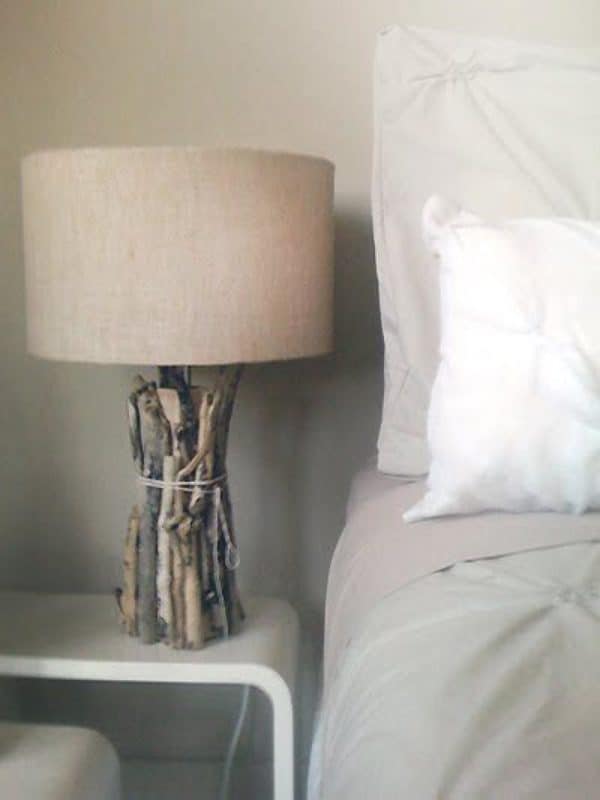 Dining table chandelier customized with a branch to give a nice rustic accent to your room.
Tassels are hand gold leafed and dyed onto delicate tissue paper. Strung on driftwood, tassels hang with a beautiful peach aura from the hand dyed variations on the tissue paper with subtle hints of gold leaf. (source)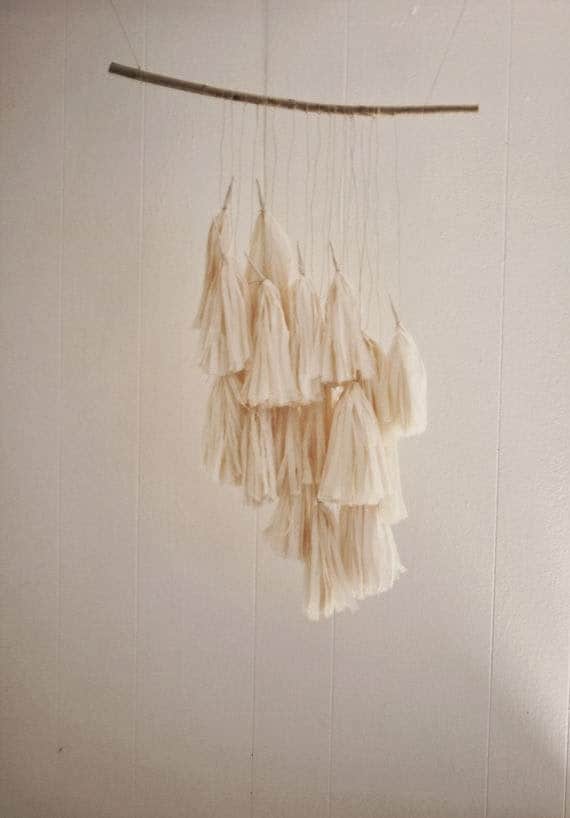 Cute winter mobile out of driftwood, a nice project you can do with kids.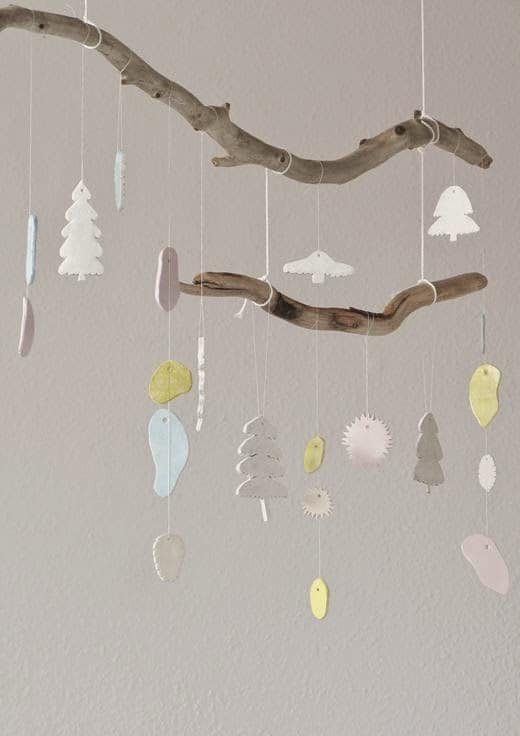 Another winter mobile from driftwood and feathers.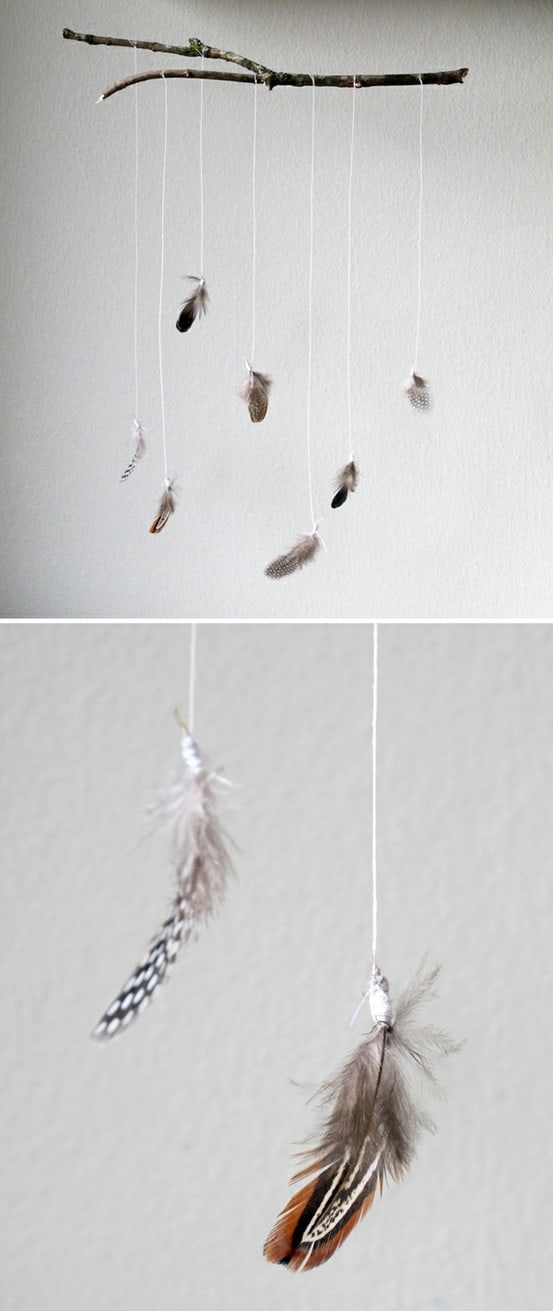 Lovely mobile with driftwood branches and paper birds.
Need a rustic and natural decoration for your next party? Look at this beautiful one, a branch and two ropes and you have a nice way to handle some candle holders.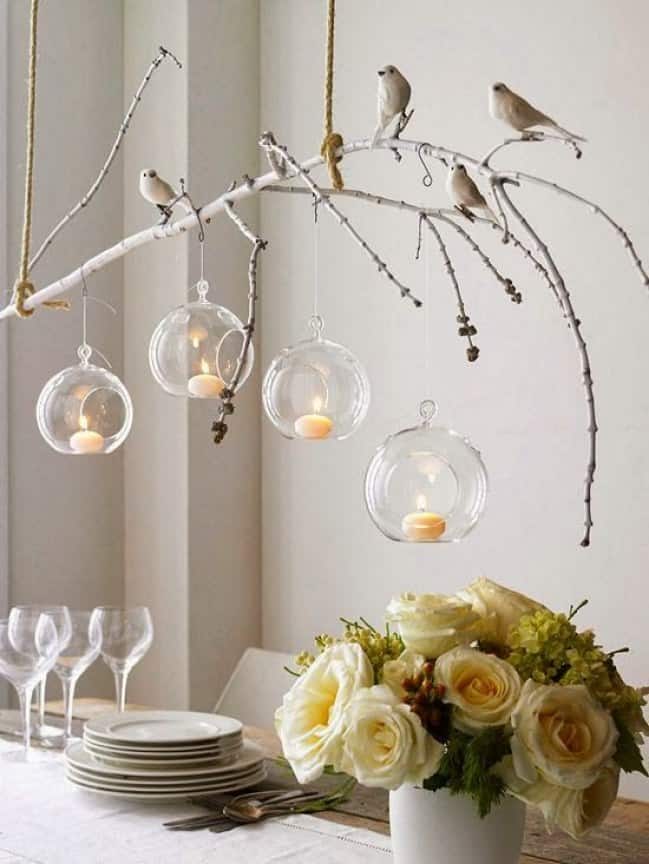 A tree branch to hang some cute succulent planters, what do you think?
Love the use of a branch in this rustic looking kitchen to hang utensils and other cooking herbs.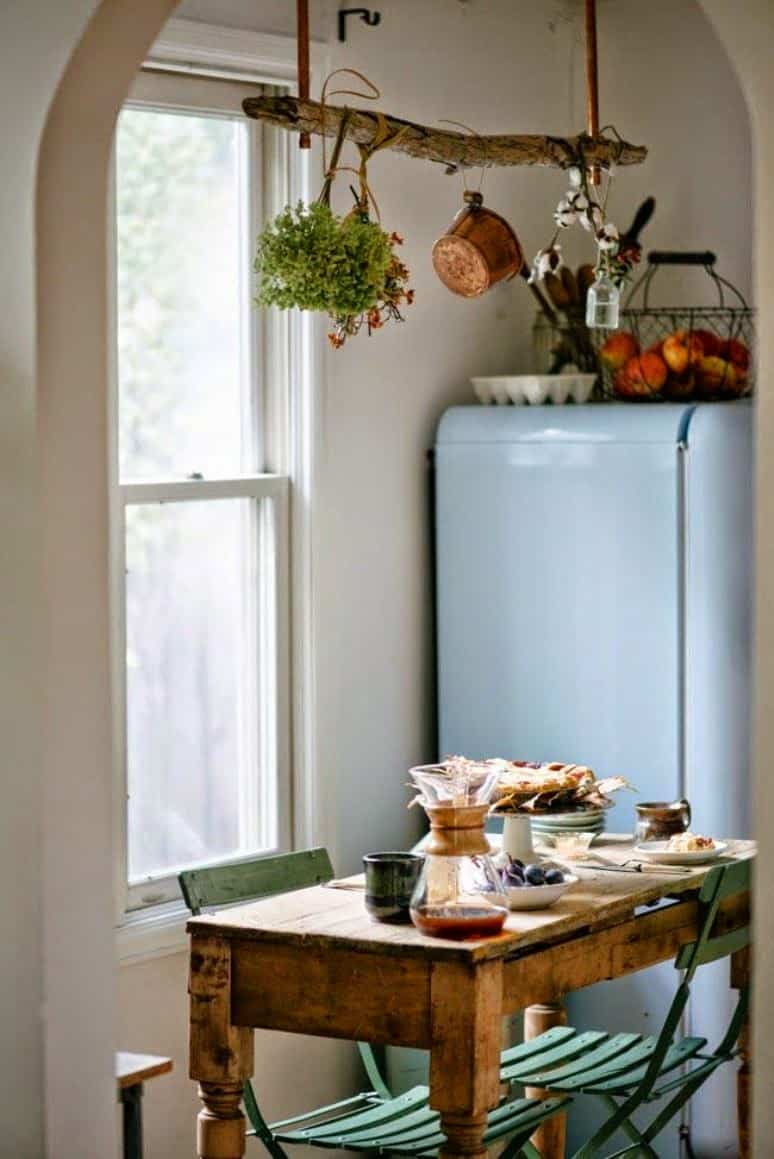 Ladder out of branches, perfect for suspending your towels in your bathroom.
Another ladder for your bathroom out of branches.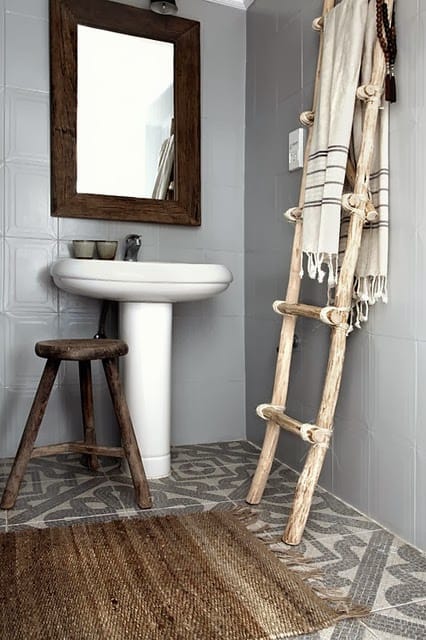 Wall decoration out of repurposed branches, who say that it's expensive to add a Bohemian touch to your home decoration?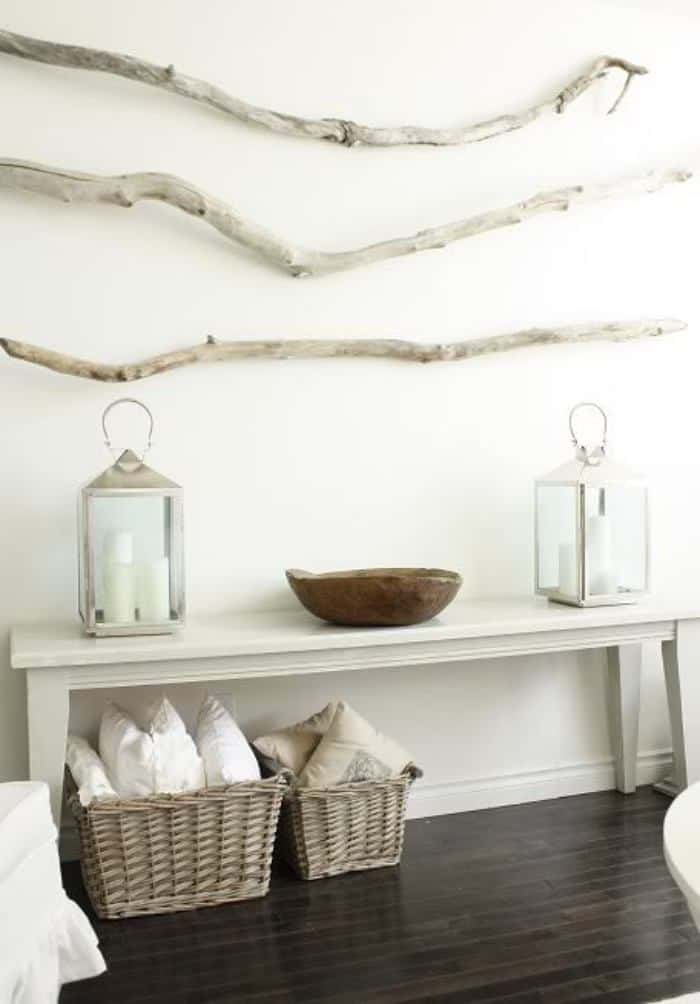 Make your own deer head wall decoration with branches, a lot smarter than killing deer!
White painted branch decoration. (source)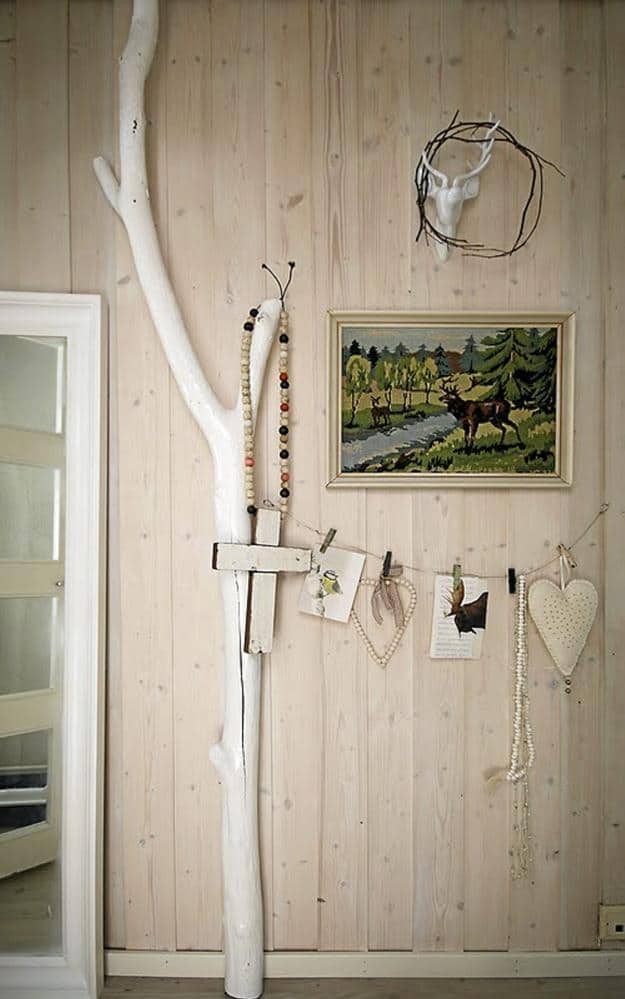 Driftwood tree branch as wall hanger decoration.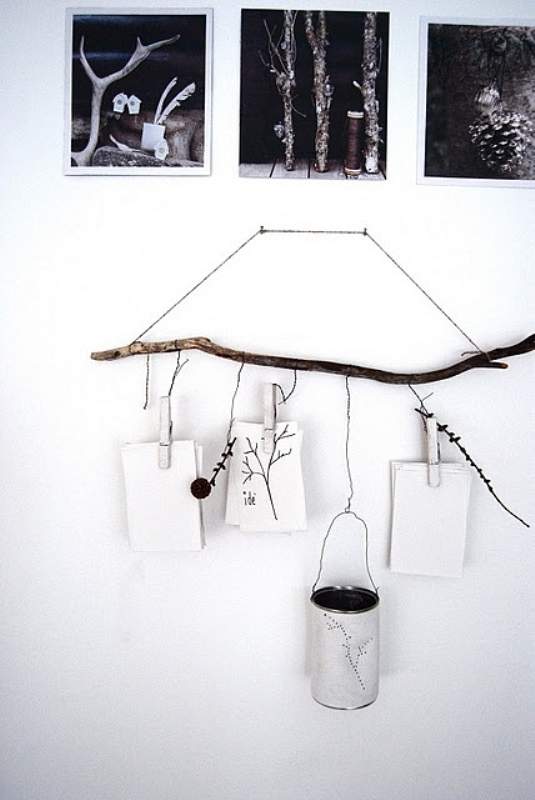 Driftwood & pine cones and voila! You have the cheapest and cutest wall decoration!
Use a branch as a jewelry display/hanger.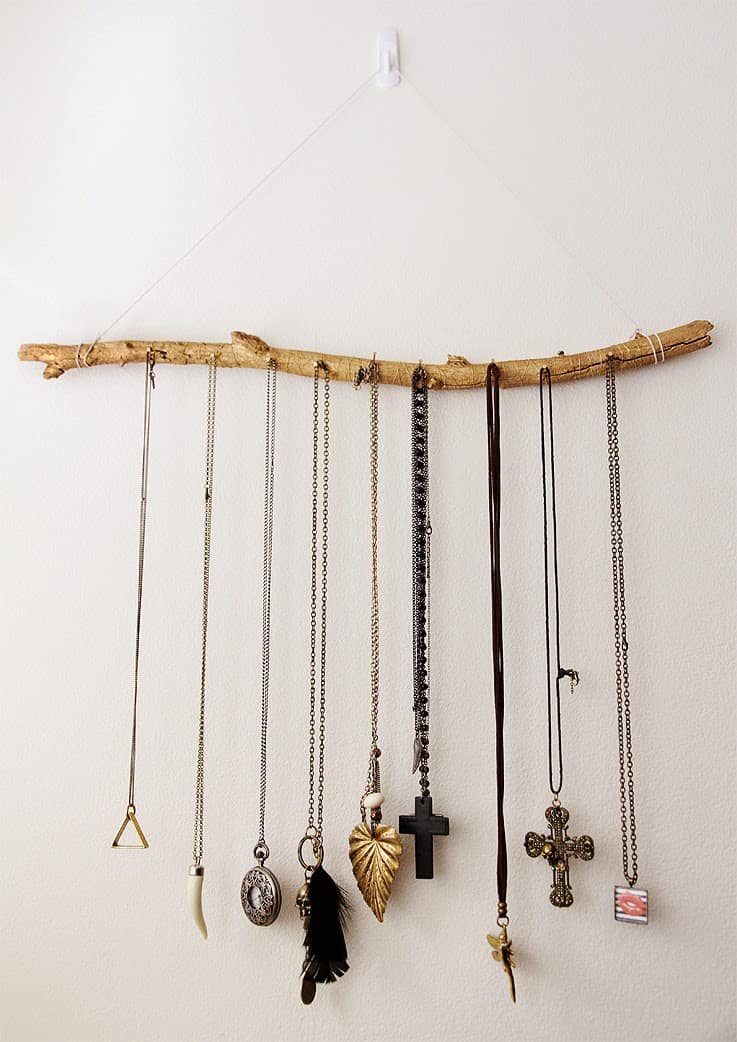 Another jewelry display/hanger out of a simple branch.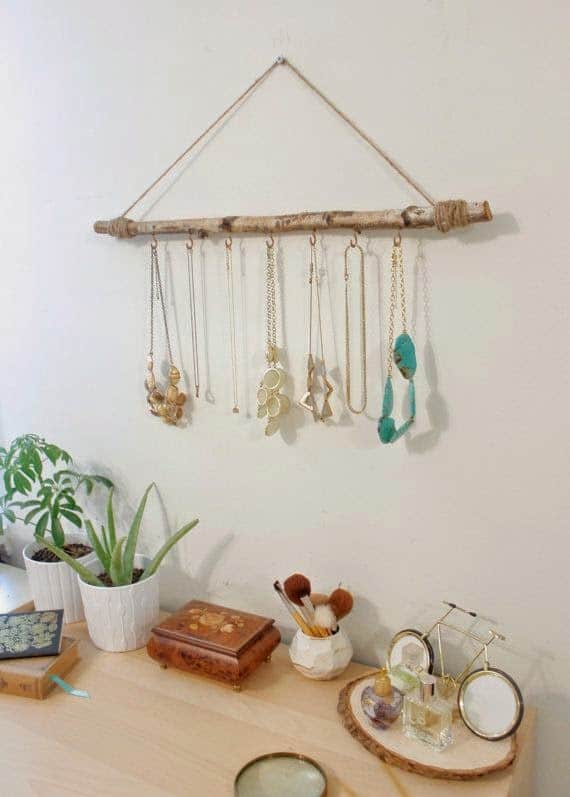 When your jewelry are also used for your wall decoration.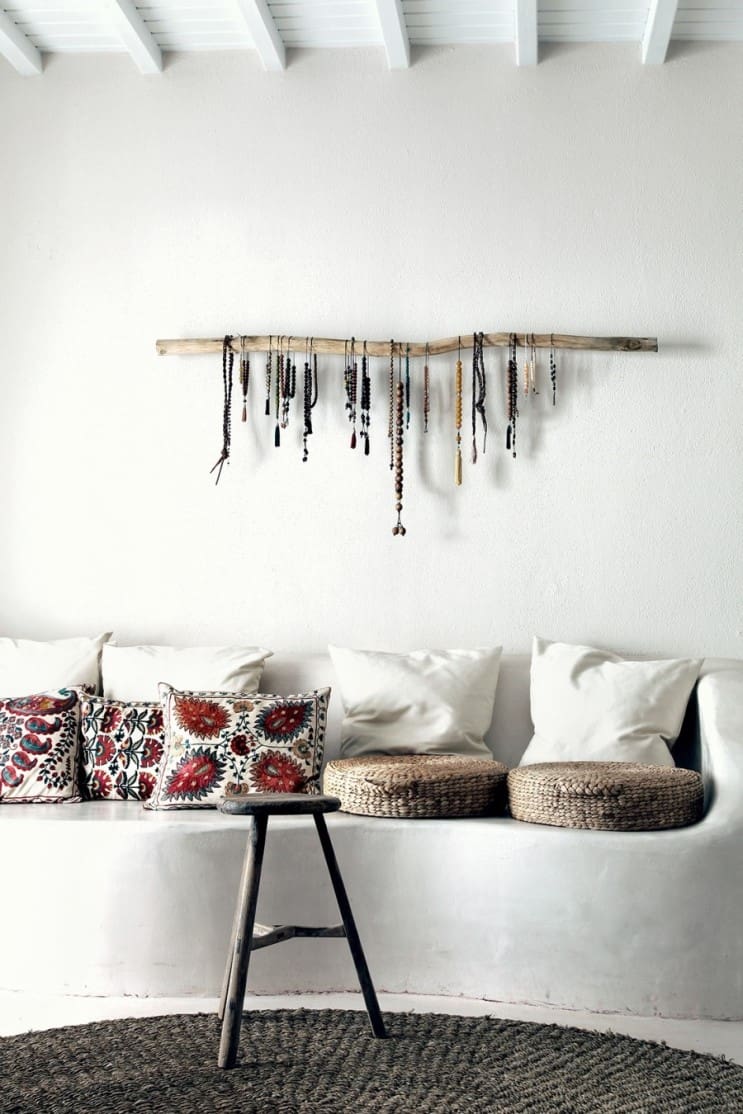 A big vase, two or three branches, and voila your natural decoration!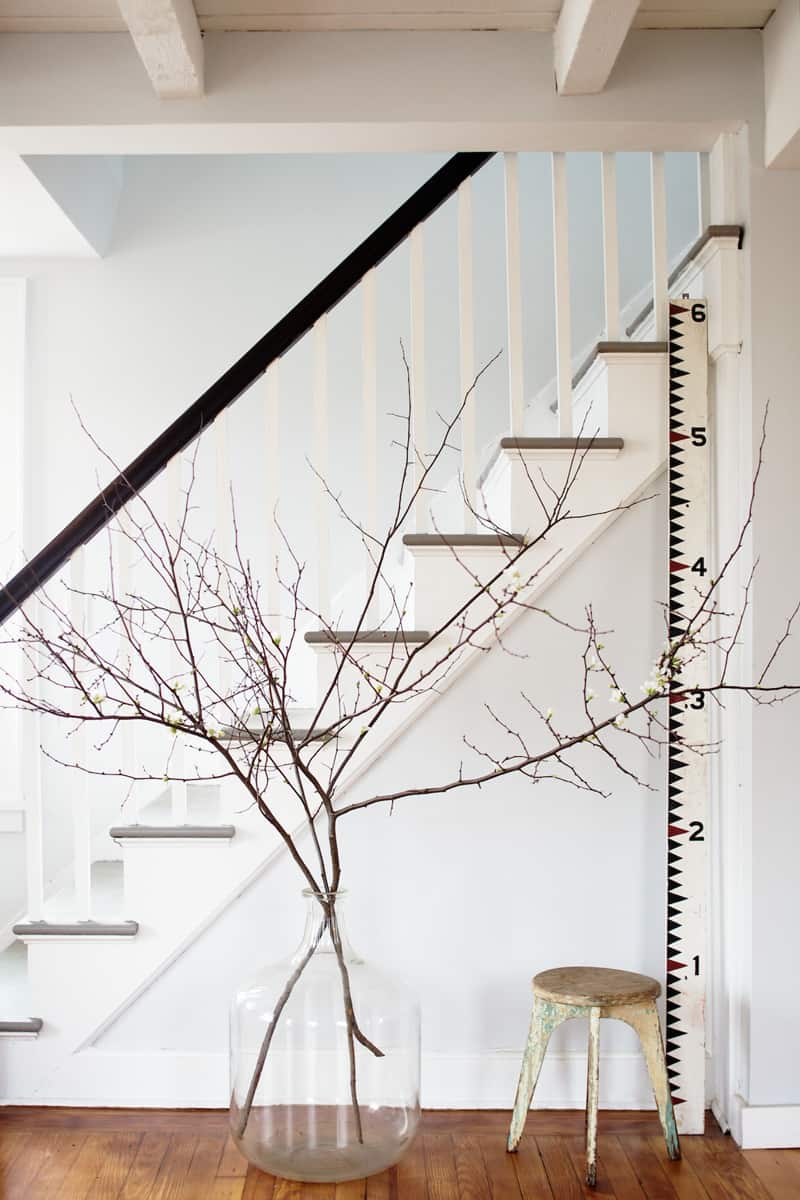 Blooming tree branches for a shabby chic interior design.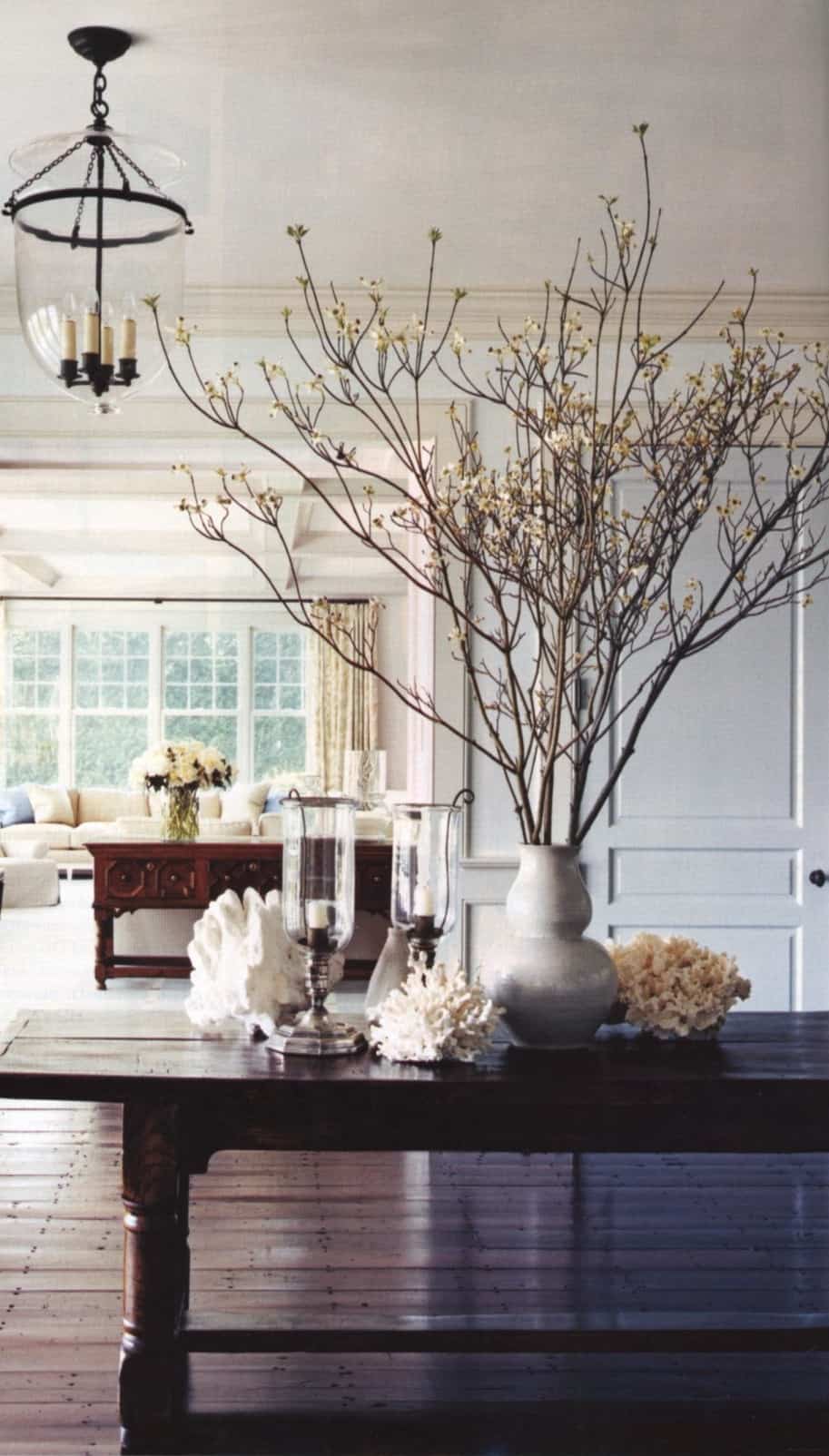 Attach old book pages to a branch for a vintage decoration.
Above the bed sculpture out of maps and a branch from the neighborhood. (source)
Beautiful bedroom branches decoration.
Suspend a branch over your bed for a super cute bedroom decoration.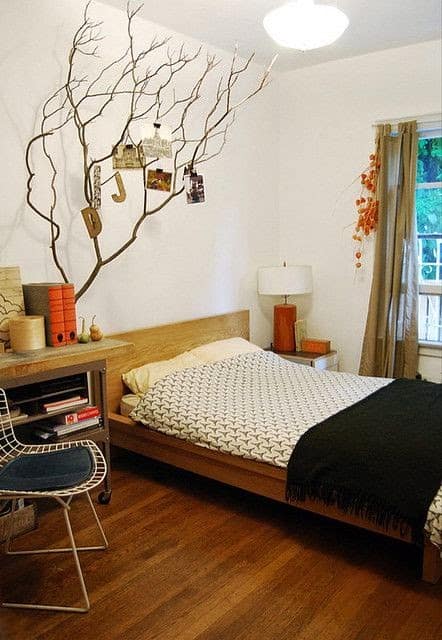 Another lovely bedroom tree branch decoration.
Do you know a simpler decoration than this one? (source)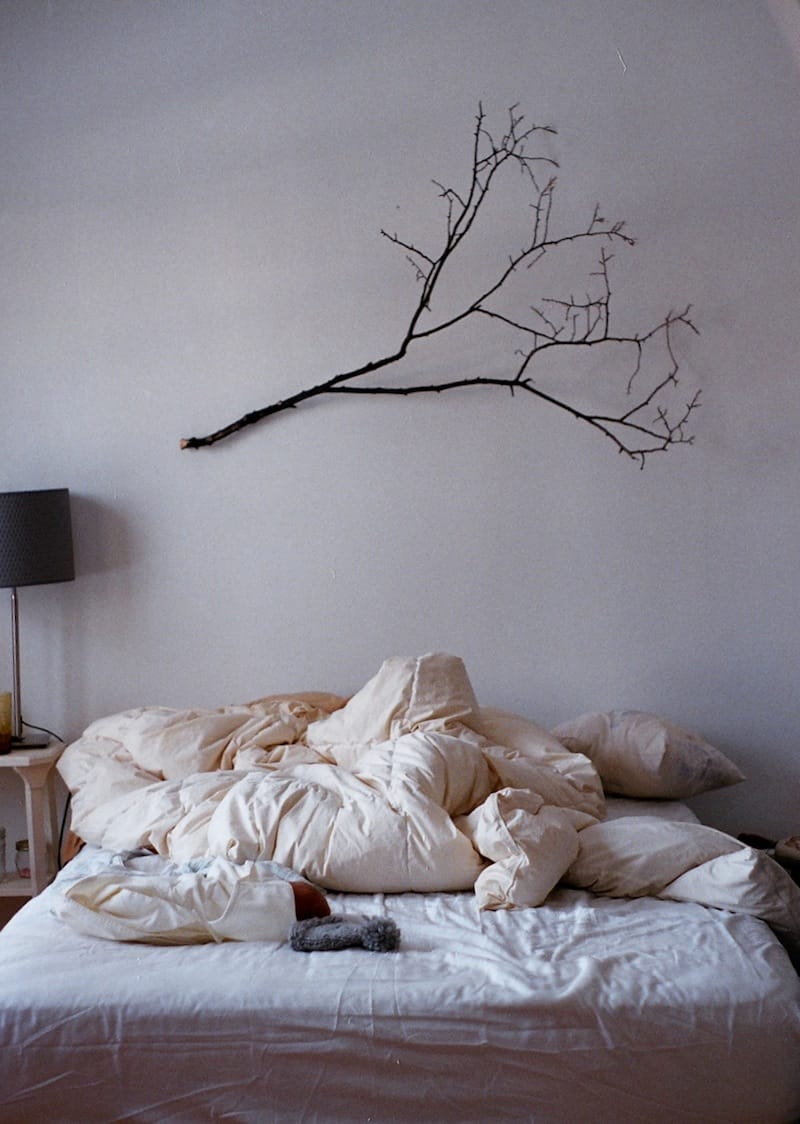 Kids room branch decoration. (source)
Use branches as room dividers. (source)
Birch tree branches as room dividers and ceiling.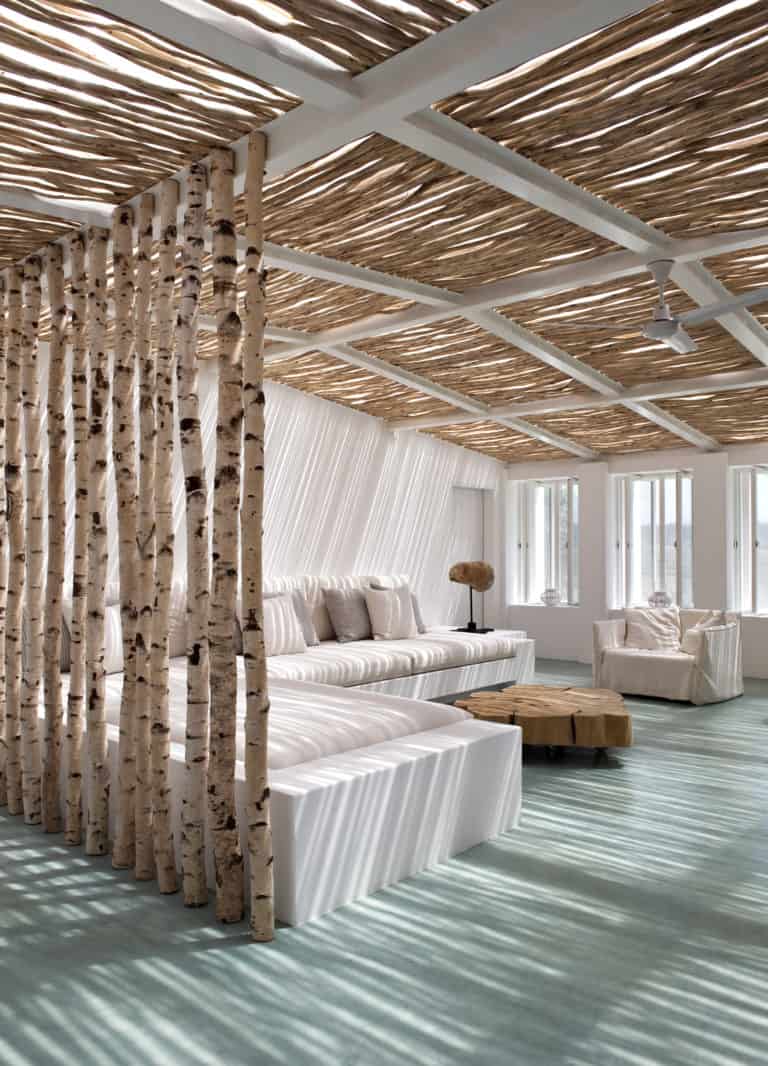 That's all folks! Now, you have plenty of ideas to use branches in your interior design, it's time to shut down your computer and go to a walk in the forest to find some branches and start decorating your home! Have you made some home decoration out of branches? Do not hesitate to share what you've made with us.
And, if you really need more inspiration, you check another set of branch ideas here.