My neighbor recently built a new cedar fence, leaving lots of scrap wood. Since cedar resists rot and insects, a plant holder seemed a natural fit.
Using a hole saw and some rope, I made these cute plant swings. Each one holds 5 pots (4" size) and can be hung indoors or outdoors.
This is an easy DIY project for any maker, or you can buy a finished plant swing from my Etsy shop.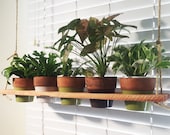 Cedar Plant Swing
Adorable handmade plant swing for indoor or outdoor use. The cedar wood is upcycled (leftover from my neighbor's new fence). Cedar resists insects and decay, so it will last for years. Hangs fr...