Paper mache lamp Jupiter is made with paper pulp obtained from old newspapers. It is called Jupiter - like one of the planets of Solar System because it has a shape and the color similar to this planet.
Thanks to an ocher color the lamp gives a warm and pleasant light. The interior of the lamp, when the lamp is on - seems to radiate the light and the surface of the lamp seems to be golden.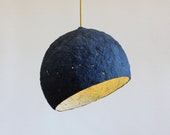 Pendant Light, Paper Lamp, Paper Mache Lamp, Dining Room Lighting, Pendant Lamp, Industrial Lamp, Paper Lamp Shade, Pulp Lamp, Blue, Pluto
We are proud to announce that this paper lamp "Pluto" was featured in UK Magazine * Kitchens Bedrooms & Bathrooms in April 2016 Issue Pluto lamp, except from the practical function, can be...