We continue our series of posts interviewing "recycled art" crafters & artists. This week, we interviewed Kimberly Franklin from the blog Trashy Crafter as she is one of our most active crafters and she bring nice ideas, essentially jewels made from recycled books & papers, to the Recyclart community. If you think you deserve to be featured in the next interview, please, drop us an email.
Tell us a little more about you? Who you are? Where are you from?
My name is Kim and I was born and raised in sunny San Diego California, and still call it home at the moment.
Why do you craft?
I have always been into crafts, as a little girl my Grandma would let my sister and I make crafts from recycled items such as toilet paper rolls, old magazines, glass jars and fabric scraps. For me crafting is a form of language and expression, sometimes I can't find words to express something, but arts and crafts always allowed me the chance to express myself in ways speaking couldn't.
How did you learn?
For the most part I'm self taught, I would just experiment with things and see what worked and what didn't. My Grandma would help me along the way if I couldn't figure out how to make something work.
Since when are you working with recycled & upcycled materials?
I have been working with recycled crafts since I was a child, along the way I tried other mediums such as painting, drawing, and clay, but recycled crafting is my passion. I find it so enjoyable not only because it's a great way to help the environment which is so important to me, but on top of that it's also so much fun to think outside of the box and be problem solvers. Taking things trash and making it into something useful and beautiful continues to place a smile on my face.
We've seen that you mainly make jewelry with recycled books, could you tell us a little more about this choice?
Recycled books is the medium I choose for my jewelry because there are so many books thrown away simply because they are warn out from use. They are ripped, missing pages or scribbled in from children. When folks bring this books to their local thrift store or library to donate them they have no use for it and that is where we come in. We take the books on their last leg that no one would have use for and we recycle them into one of a kind recycled book paper beads. We gather damaged childrens books, novels, maps, sheet music and bible from libraries, thrift stores, teachers and non-profits and give them a second life where they can be enjoyed by someone who loves the book for years to come, rather than sitting in a landfill.
What are your can't-live-without essentials?
My essentials are mod-podge matt glue, it has always worked the best for me and is more eco friendly than highly toxic epoxy sealers. I also use scissors on a daily basis and seem to have about 5 pairs in my house so there is always one near by haha.
How would you describe your style? Are there any crafters/artists/designers that you particularly look up to?
My style is unique and outside of the box. I love recycled handmade one of a kind crafts because it's something you will get nowhere else so you will be the only one with something. The other thing I love is that there is history behind your work. The books that I use have a history, so many people read them, the spacer beads I use from recycled broken jewelry have a story, and when it comes together it's a beautiful thing.

There are so many people I look up to in the recycled crafting world, too many to name them all. Kat O'Sullivan of Katwise makes beautiful sweaters from recycled sweaters and jackets. I feel like her style of fun, colorful and playful items fits my personality and vibe to a T! I hope to get the chance to meet with her one day, have you seen her beautiful home, if not you need to check it out, it's an artists paradise, and she is such a sweet and kind person. I also love Melissa Drake of Happy Go Licky who makes amazing silver jewelry.
How is your workspace, how do you make it inspiring?
I love my workspace, I live with my boyfriend of 8 years and we have very limited space in our one bedroom apartment. The good thing is that he is very supportive of my work and allows me to have the living room for my studio. It's great because I have a beautiful patio garden right next to me to look at, and lots of natural light comes in the patio sliding door. I have it very nicley organized, I hate it when something is out of place. I really enjoy working at my big desk, I like to light a fall inspired candle, put on some folk, bluegrass or country music with my two dogs at my feet and work on my jewelry. It's great too because my desk is in my living room the walls are filled with recycled artwork I have made over the years as well as pictures of friends and family.
What sorts of things are inspiring you right now? Where do you look for inspiration?
I get inspiration from everything in life, what drives me and gives me fuel for creation is nature. I really like to notice how colors, patterns and texture play together. It's fun to get inspired from the world around me, I love going to the local thrift store or swap meet for ideas and also enjoy taking my dogs on a long walk outside to get the juices flowing.
When do you feel the most creative?
I feel the most creative when I am working on a custom order for a client. Custom orders are really fun since people provide me items that are near and dear to their heart, such as old greeting cards from a childs birthday, meaningful bible pages, wedding vows, a special book they read their child etc. It's such a fun experience for me to put together their memories in a beautiful way that they can wear as a bracelet or necklaces for a life time. I find it to be a huge honor. There have been so many wonderful stories from custom orders, some that even brought me to tears. One of my all time favorites was when I made a bracelet, earring and necklace set for a woman that had been a librarian her whole like, she was in her late 60's and had been diagnosed with more than one terminal cancer. We turned her all time favorite book she would read her students into a recycled jewelry set and gave it to her for her birthday, she was in tears and loved it so much. Months later I found out she had lost her battle with cancer and had joined the angels in heaven, I was told that her jewelry was placed on her when she was buried. The impact my work has on people is truly humbling, it's something that never crossed my mind until I started accepting custom orders. It brings tears to my eyes and a smile to my face when my jewelry can impact someones live in such a strong way and give them happiness, the ability to reminisce and carry a memory for a lifetime, it's a true honor I am forever grateful for!
We live in such a mass-produced, buy-it-now society. Why should people continue to make things by hand?
I believe handcrafted artisans are the heartbeat of culture and society. I truly think that people are finally starting to turn back to how things used to be, how items created had a story and a face to them, the face to them being the people, the humans behind the product. I believe people are hungry for genuine connection and story telling, this is something a big box store doesn't have the ability to give. When you purchase a product from someone you have built a relationship with and heard stories from, the item you purchase takes on a whole new meaning and importance. Crafters have the ability to make story telling and language tactile, it's a wonderful process, and I am so glad it is working its way back into our culture!
What is your favorite medium to work with, books & others?
I don't have a certain thing that is my favorite, I just enjoy recycled crafts and always have since childhood. Paper books, cardboard rolls, glass jars, old fabric, old buttons, things I find in a dumpster, old wood pieces, anything really. The ability to take old and make it new and functional is my favorite!
What are your tips for people who'd like to start crafting?
For people just getting started with crafting my advice is to try different mediums until you find one you deeply connect with. I have tried drawing, painting, ceramics, crocheting, sewing and more, but what I connect with most is recycled art. You need to experiment to find where you are most happy making things. And like anything you do in life, it takes practice and time, odds are you won't be amazing at first, but keep on working on it and you will develop skills!
What is your guilty pleasure?
I really enjoy going down to the store to smell candles, I have always loved smells and candles are a great place to take me down memory lane. I also LOVE to go to the local nursery and pick up new plants, my patio is full of plants that I have gathered since childhood. As a kid I shared a room with my sister my whole life, and my side of the room was packed with plants, most of which I still have now. Two two placed I spend most of my money are plants and candles, I love having an environment that is enjoyable and inviting.
What is your favorite thing to do (other than crafting)?
Other than crafting I love interior design, gardening and teaching others about marketing their crafts, I also like to travel a lot and go hiking and camping.
To finish, we've seen that you have an active website & an ETSY shop. Is that a full-time job or just a hobby to share your personal creations? Any other websites that our readers should not miss? 
I am not yet full time, but I do work on my business every weeknight and weekend. I sell at many local craft shows and also sell on Etsy. I would like to offer anyone that reads this add a discount code for any recycled book bracelet jewelry purchases they would like to make for this up coming holiday season. They can get 15% off any purchase by using the code "booklover" at checkout.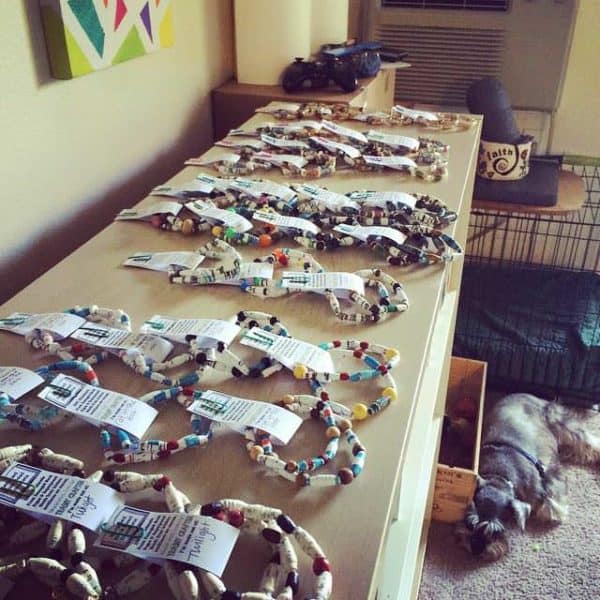 Thanks a lot Kimberly for this interview! :)
To see all the posts by Kimberly, it's here.
To follow Kimberly: