I made this Twisted Wire Pallet Lamp with various upcycled materials. I used a USB lamp because it has a warm, inviting light.
Make a light of your design, and find inspiration in my Twisted Wire Pallet Lamp!
Connect it to a USB slot on a computer or into your phone charger. By upcycling materials, this lamp is much more eco-friendly than a store-bought one. If you don't have the time, you can purchase one here.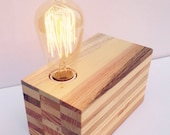 Reclaimed Pallet Wood Lamp
4 in x 7 in x 4 in Lamp, Hand made in Brooklyn from 100% recycled wood shipping pallets, clear coated to provide a scratch and water resistant finish. Every piece is unique, color may be slightly diff...
Need more pallet lamps & lights ideas? Check-out this amazing selection fo pallet lamps & lights by 1001Pallets.