With Christmas just around the corner, here are 10 Last-Minute Upcycled Christmas Ideas to make or buy! Make holiday decor or personalized gifts, or just a lovely gift for you! Reduce your stress and make (or buy) Upcycled Christmas Ideas!
Adorable Aluminum Can Earrings
These crisp, refreshing (haha) stars are perfect for the soda or cold beverage fan in your household. A great way to show your love for a specific brand of beverage while adding a bit of sparkle to your holiday decor.
Upcycled Pepsi or Diet Pepsi Soda Can Star Ornament
This star is completely hand made using a Pepsi or Diet Pepsi soda can. The cans are hand snipped, bent, and riveted together with double layer for rigidity and minimal use of hardware to form unique ...
Sea Glass Christmas Tree USB Lamp
The gentle glow with the colors of the sea is relaxing year-round! This sea glass lamp is pretty enough to display whenever you need a bit of color!
A Canning Lid Snowman
This whimsical country snowman is a perfect rustic addition to your holiday decor.
Custom License Plate Art
This ingenious project is ideal for the automotive afficionado in the home.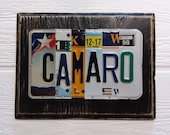 Upcycled Skateboard Jewelry
Can you believe this ring came from an old skateboard? Look at that shimmering color!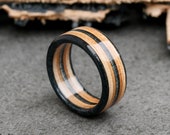 Nom-Nom-Nom
Add some tech to your holiday decor with these Pac-Man-inspired gift tags (or tree ornaments).
Gifts for the four-legged children
Who's a good dog? Your dog, of course! Reward your best furry friend with a relaxing pillow or chew toy!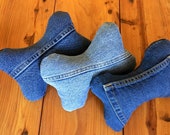 Denim Christmas Stockings
Denim comes in a variety of colors, and this stocking is the perfect canvas! Mix dark and light tones in a quilt pattern and create a country stocking!
Bicycle Spoke Ornament
Honestly, did you ever look at a bicycle and see Christmas trees? You do now!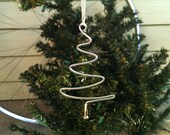 Bicycle Spoke Christmas Tree Ornament
Hand made from a bike spoke, this simple yet elegant design is the perfect addition to your tree or to give as a gift. Dimensions are approximately 4" tall by 2.25" wide. Be sure to check ...
Melted Beer Bottle Butter Dish
Put this butter dish on your holiday table and wow the crowd!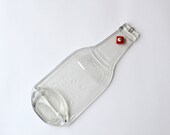 Be prepared with a list of the handiest Zombie Apocalypse Tools! Turn old fabric into Gift Bags!