Vintage Glass insulators were first produced in the 1850s for telegraph lines, then for telephone and power transmission lines. They insulated and protected the wooden poles from the electricity coursing through the wires. They are made from glass, porcelain, or composite polymer materials (non-conductive materials). That was the insulator's primary purpose. Hemingray, Brookfield, and Whitall Tatum are some of the companies that made them. Glass insulators are perfect for upcycling projects. They are an excellent material for lights, candle holders, planters, or other decorations with their industrial style. Their gorgeous colors and decorative edging and the manufacturer's markings were works of art when aesthetics were necessary along with functionality. Here are some of the 30 best ideas we've found and that are made from old glass insulators.
Glass Insulator Candleholder & Tea Light
Upcycle a glass insulator as well as an old mattress spring. The spring fits quite nicely around the tapered top edge and creates a broad, stable base. Add some decorative ribbon or thread, and you've got a gorgeous upcycled candle holder. A rusty bed spring and a vintage aqua glass insulator make a cute little votive holder.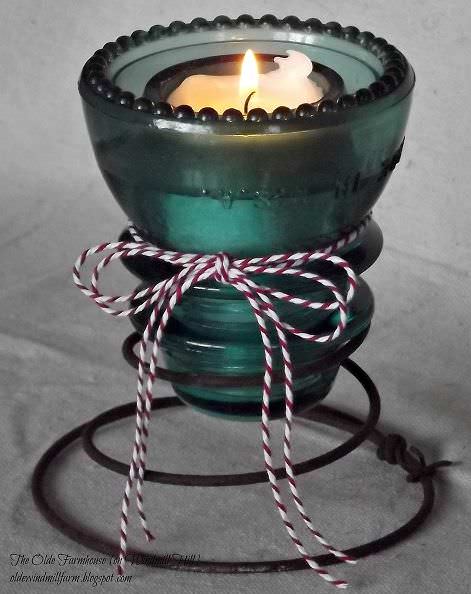 Can you picture these adorable lanterns lighting up your next outdoor party? Just add long twists of wire to create handles and hang them from the nearest nail or branch!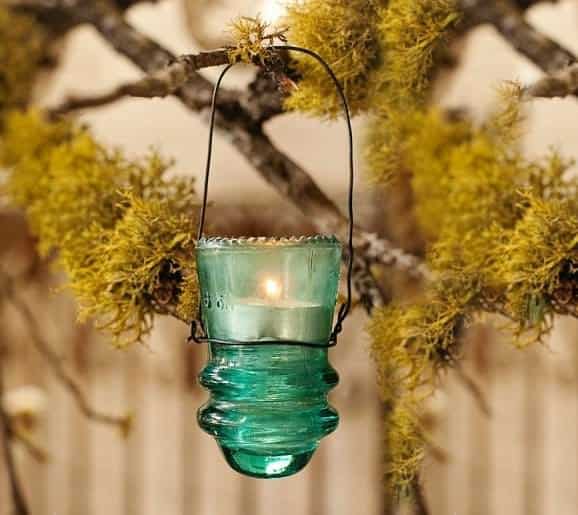 Who would've thought an industrial product that isn't needed anymore could become an elegant centerpiece or mantlepiece?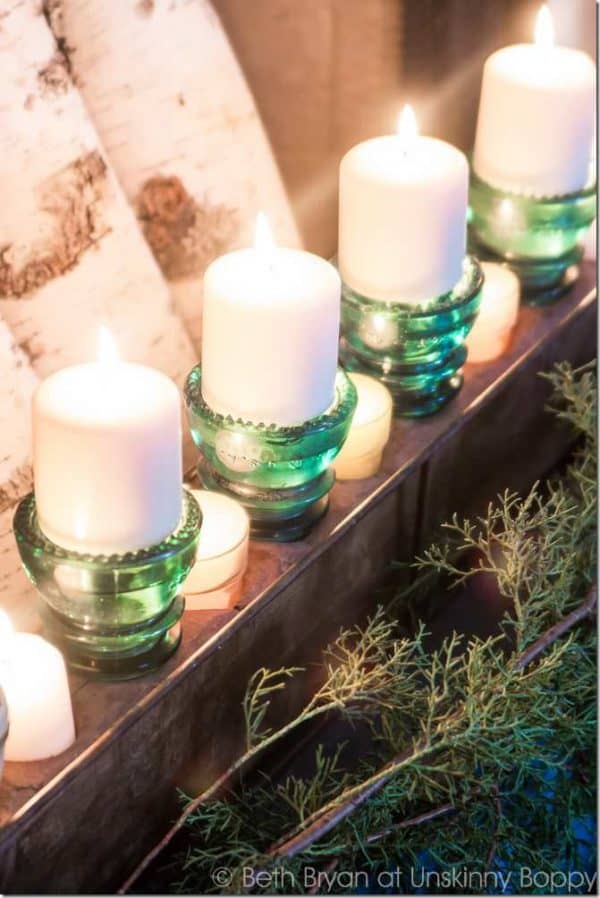 Combine two upcycled items to create a shabby-chic candleholder!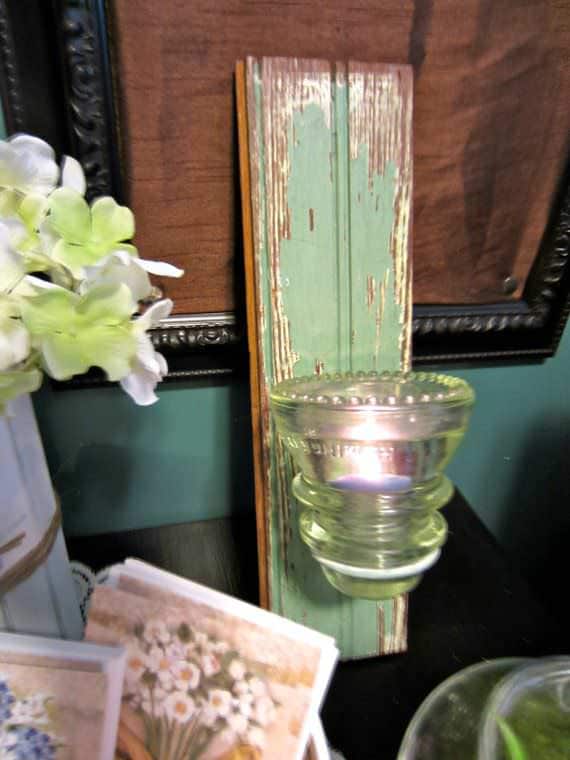 Old wood, including driftwood, vintage barn wood, and other wood with many characters like old beetle holes, termite tunnels, etc., can add a LOT of interest to these rustic candle holders. If you're worried about live critters, you can heat-treat the wood in the oven – find YouTube videos on how to remove pine beetles from wood in the oven.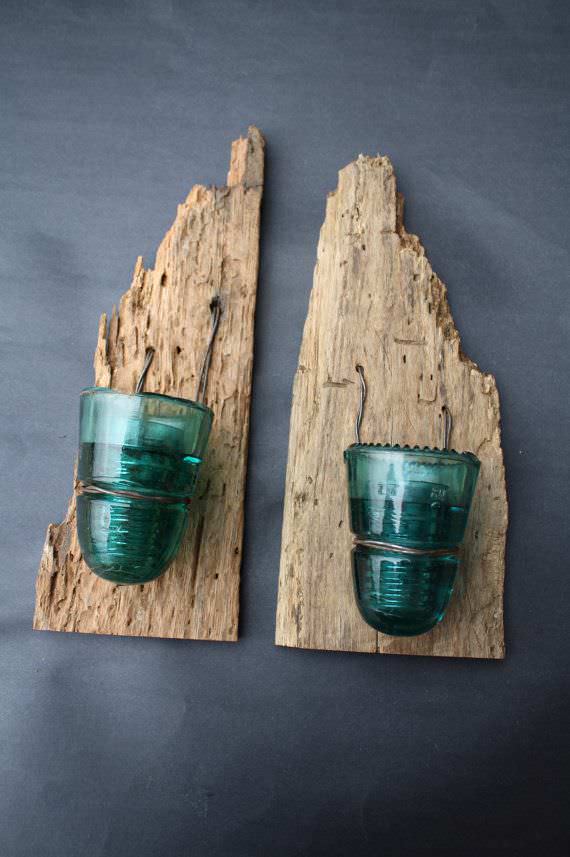 Turn upcycled old horseshoes and vintage insulators into this unique, stable, and stylish centerpiece for your table or to adorn a mantle. Beautifully rustic!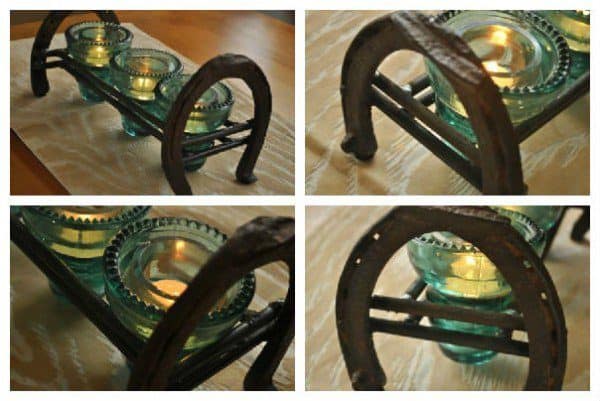 Make Vintage Glass Insulators into various Pendant Lamps and Chandeliers!
Who would've thought that thick, sturdy glass insulators could become part of this delicate, airy chandelier that could be used indoors or outdoors! It is a beautiful way to create unique artwork for your home.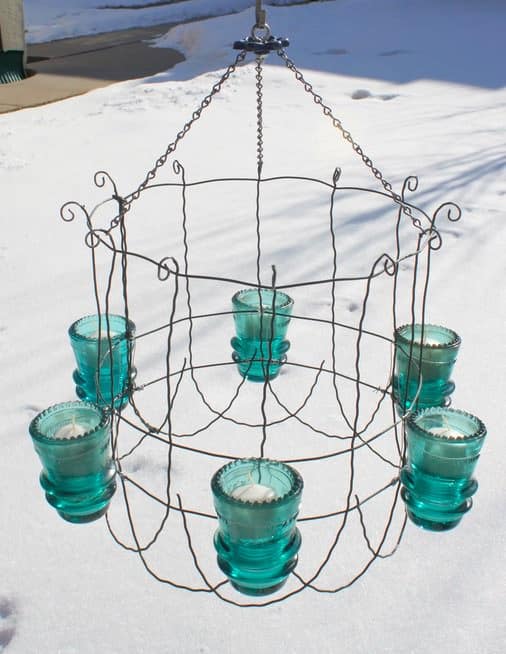 Upcycle an old skeleton key and scrap wire into this curly-footed little candle holder that would add a touch of rustic elegance to any room!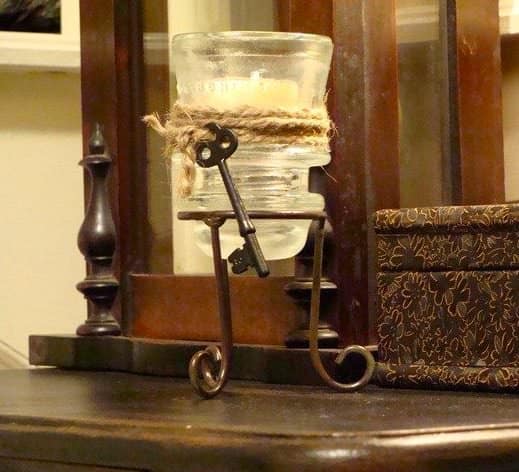 Sale
Glass Insulator Light
Industrial, steampunk, or just flat cool! That's what this pipe-fitting and insulator lamp is. Wouldn't this be gorgeous as a set for your pallet headboard?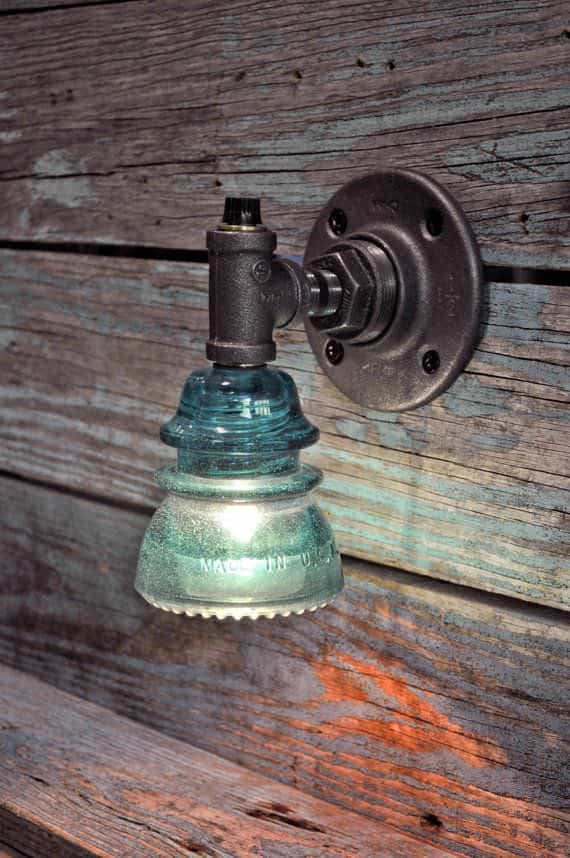 Add Edison-style bulbs or the latest LED bulbs to create really beautiful pendant Glass Insulator lamps!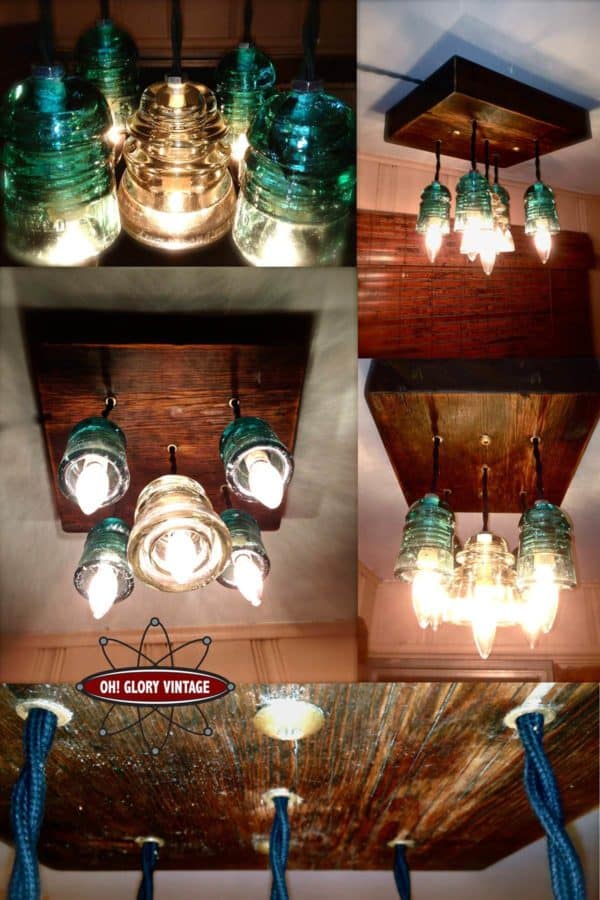 Make a strong statement with this industrial bedside lamp made from pipes and a vintage glass insulator.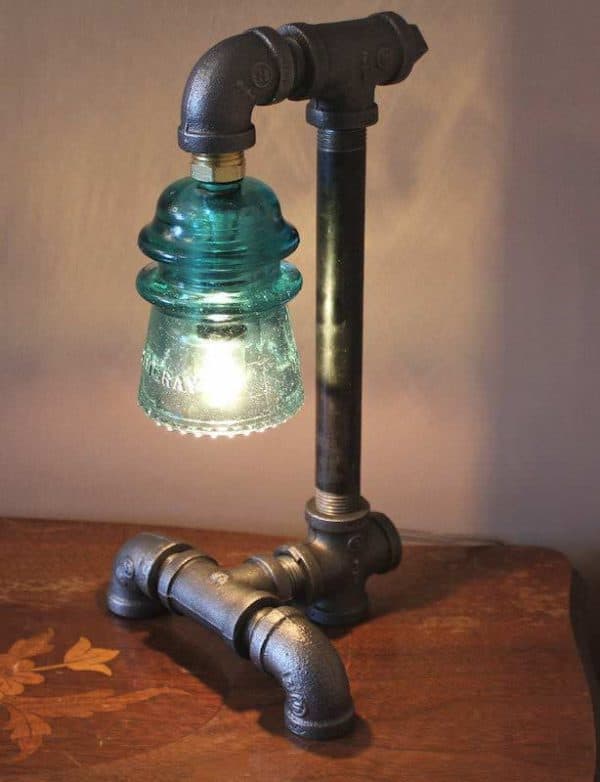 A dual-lamp bedside or desk lamp from insulators and pipes. Industrial strength and vintage beauty combined to make eye-catching lighting!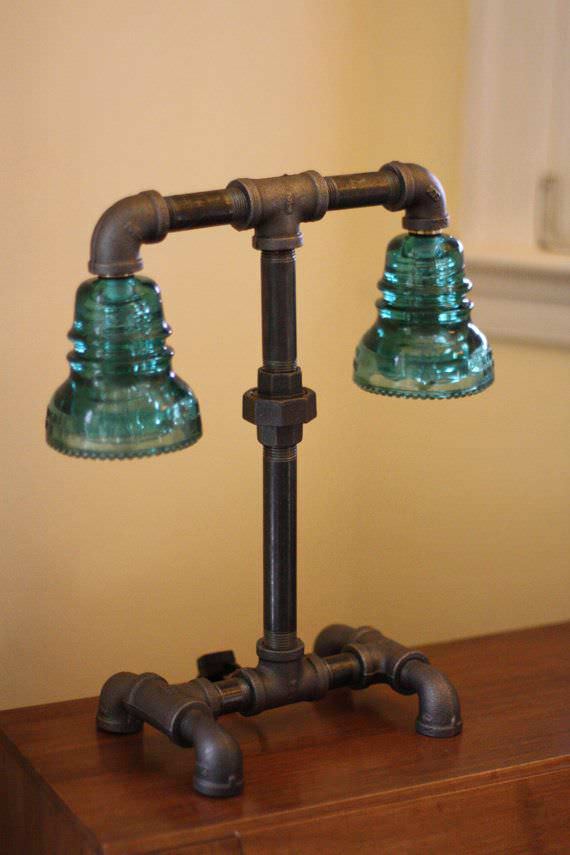 The best of upcycling! Use an old lamp base and add a glass insulator as the lampshade for a unique little lamp. This would even make a great nightlight for a kid's room without looking like a "baby's room" nightlight, so your kids feel grown up!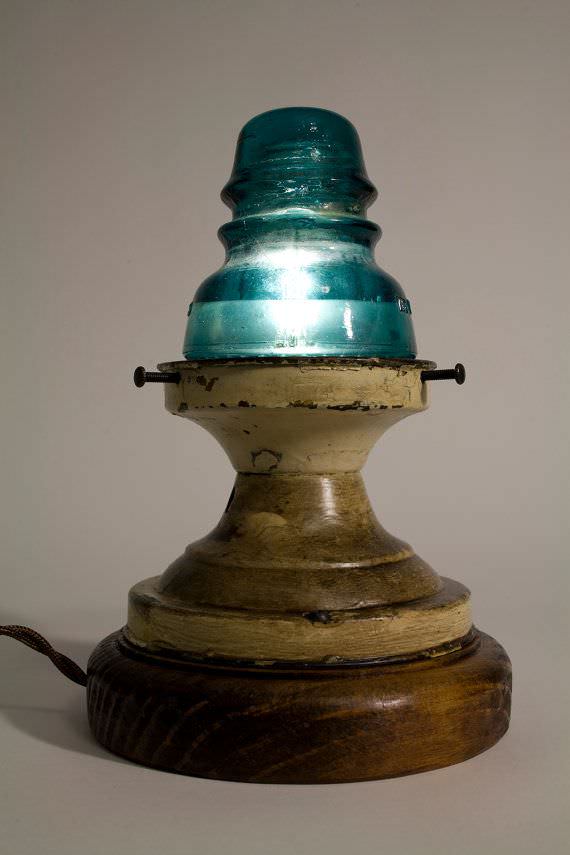 Here's a clever way to use a glass insulator: turn it into the lamp BASE! Add a copper lampshade, and you've got something unique for any room of the house. Could you see these hanging over a pool table?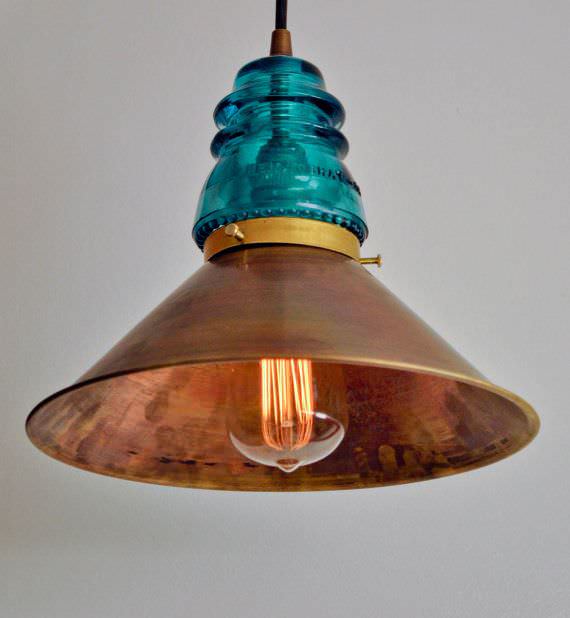 Old-school or modern industrial style – it's up to you when you use Vintage Glass Insulators in your lamps!
A modern industrial lamp – again using the insulator as the base, but a shiny lampshade makes it look very modern.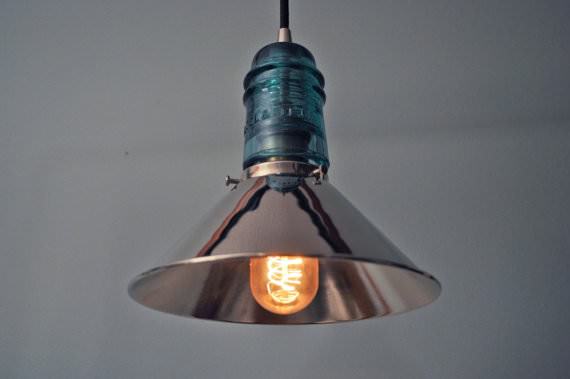 A back-to-back Hemingway Glass lamp could rival any beautiful Victorian-style lamp!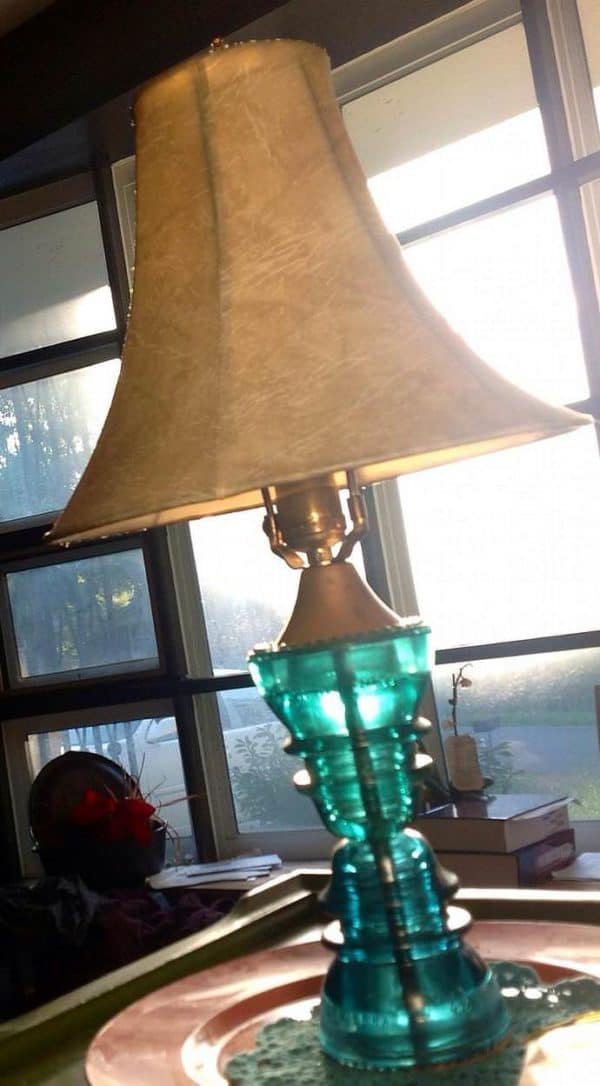 A cute idea for a winter centerpiece. You could add battery-powered led lamps underneath or use a string of holiday lights. Use twinkling ones of multi-colored lights for more fun.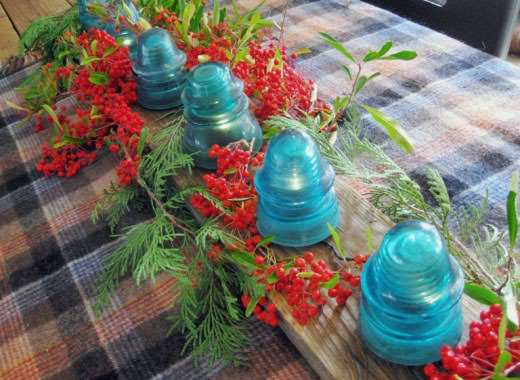 A wicked-cool steampunk-style bicycle parts lamp! This uses a bicycle rack, a metal shoe-tree, an old glass insulator, and other fun upcycled parts to create this beautiful Glass Insulator Desk Lamp.
A pretty pair of lamps suitable for your desk, bedside table, or a living area made from high power insulators & railway screws.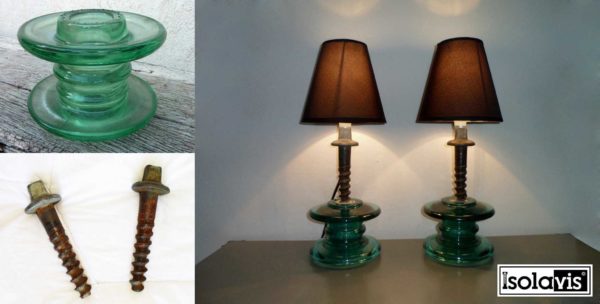 Solar lights using an antique glass insulator, a recycled electrical conduit, and recycled machine shop drop. Or the leftovers for these, I use what is left after they stamp out golf divot tools. The pieces are welded into a leaf that is then welded onto the conduit. Rebar is added to the bottom and a treated rod to the top. I drill out the insulator using a drill press and a diamond-tipped a bit. The glass insulators I use fit the solar light top you can get at Wal-Mart.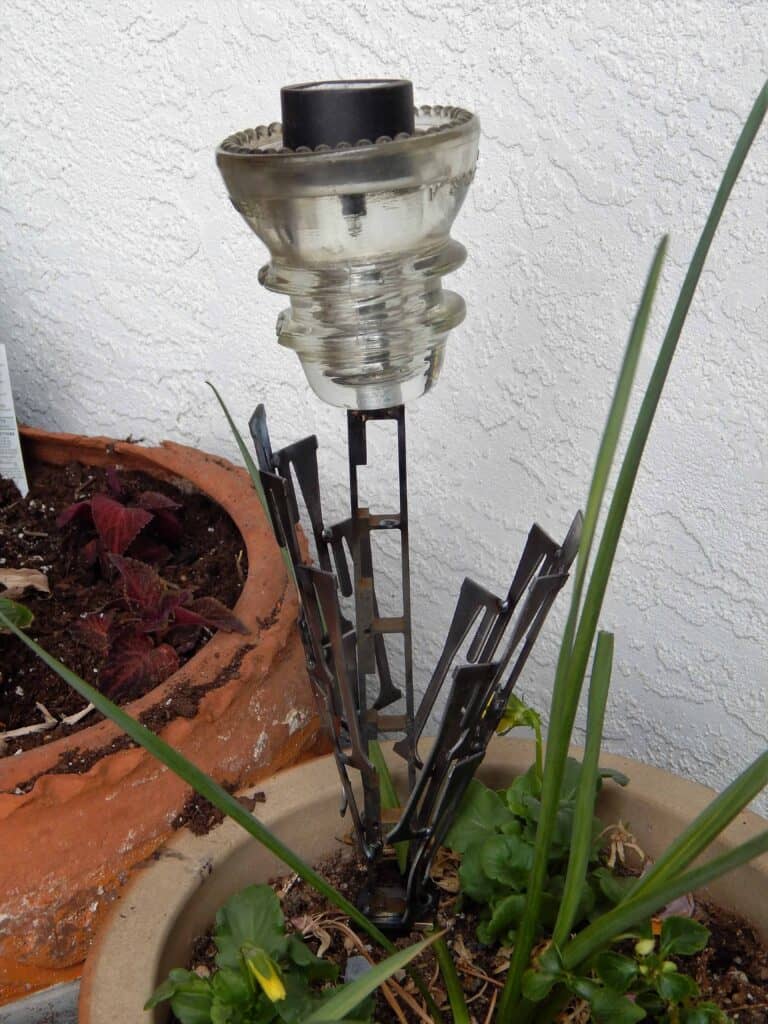 Glass Insulator Planter & Vase
You don't always have to make lamps. How about this delicate-looking little vintage glass vase made from an upside-down insulator and an old bed spring or twisted wire? Too cute!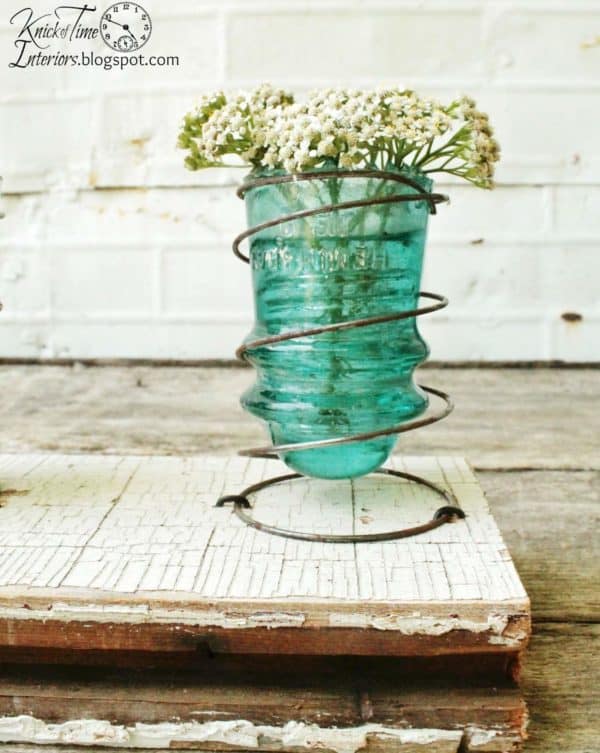 Wouldn't this be an amazing wedding decoration? They're too pretty to give as party favors, though. :)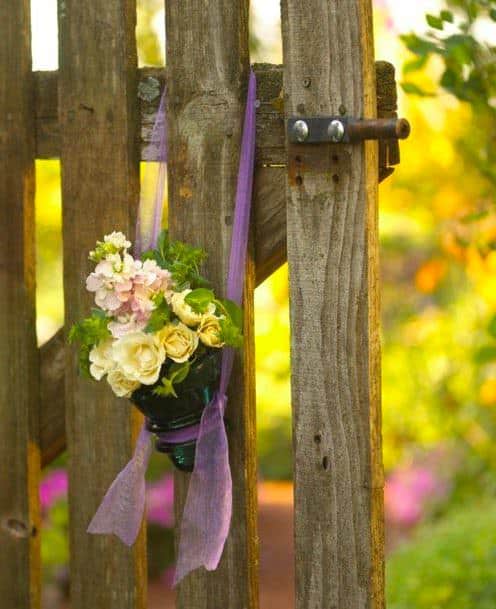 Another adorable little shabby-chic planter or vase using twine or sisal rope and an old insulator.
This idea for cute little succulent planters would be great for indoor or outdoor living areas!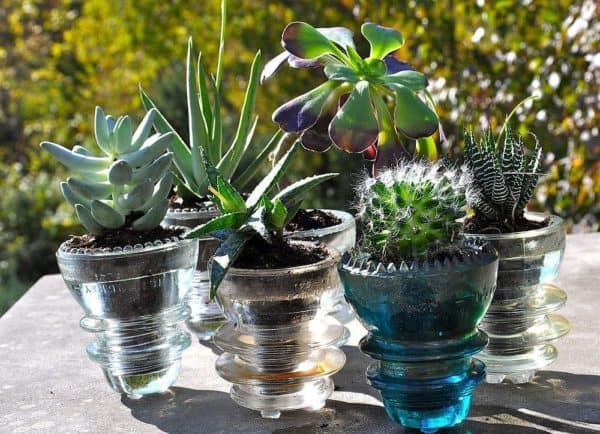 More great succulent planters using insulators.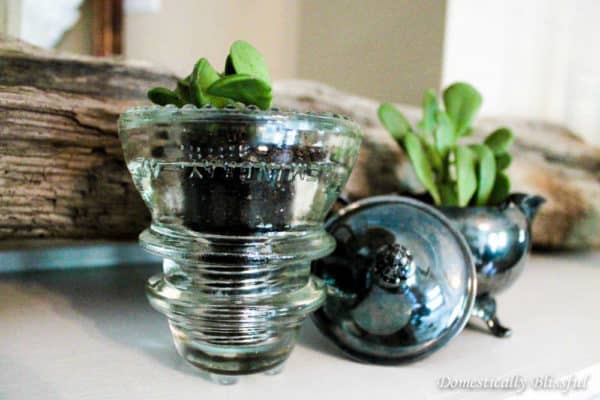 More Creative Ideas Using Vintage Glass Insulators!
Why not make a classic paperweight, but add some personal touches with some simple wire twists and create a photo display as well?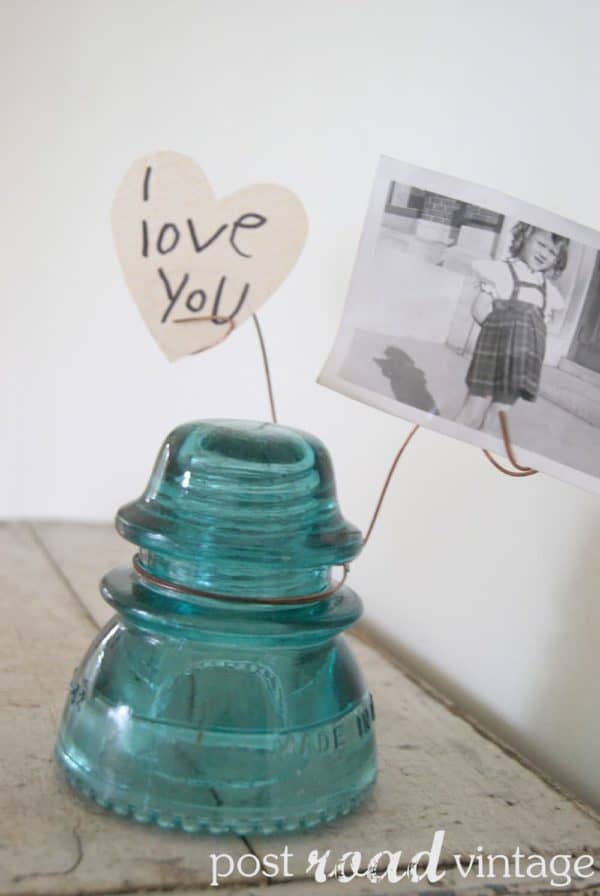 Turn glass insulators into a shabby chic glass insulator coat rack!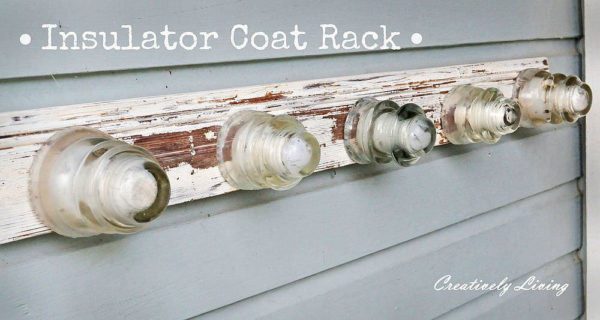 Look at this amazing holiday tree using glass insulators and a lamp pole! Brilliant and so unique! Plus, it is reusable and a heck of a lot easier to put up each year!
Use glass insulators as bookends! <3 You could even use a pair of glass insulators as book holders, simple!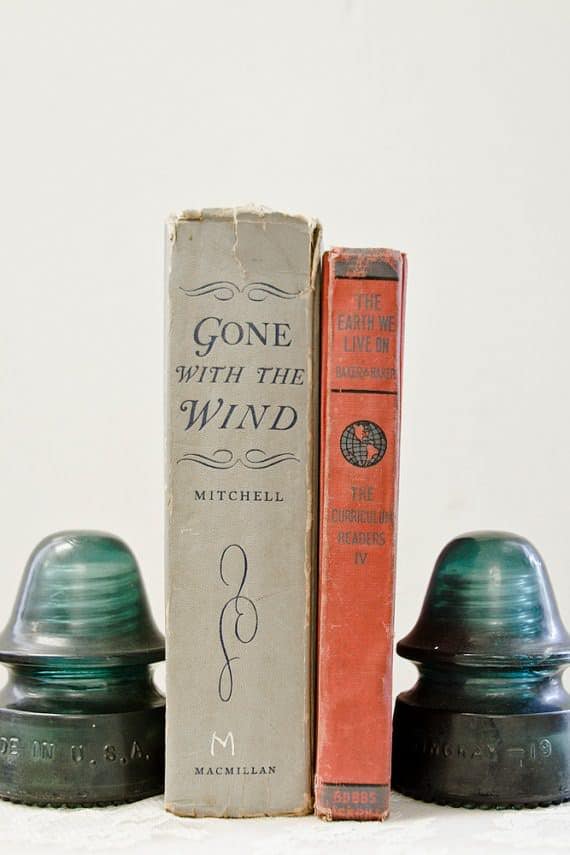 Here are a few extra ideas for using Vintage Glass Insulators.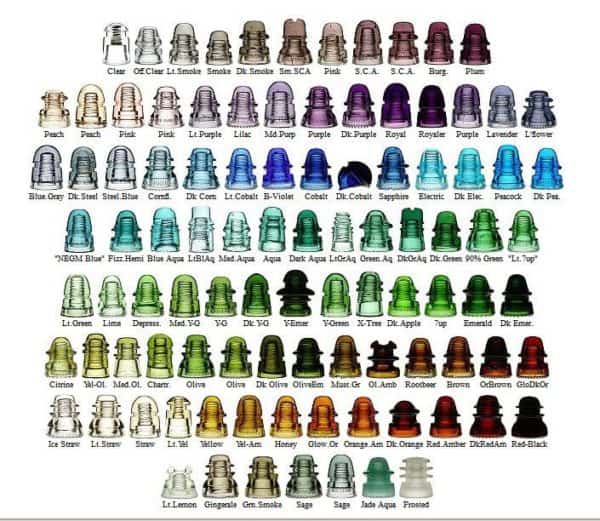 And here is a tutorial on how to make your light from an old Vintage Glass insulator and most important how to drill a hole in the glass.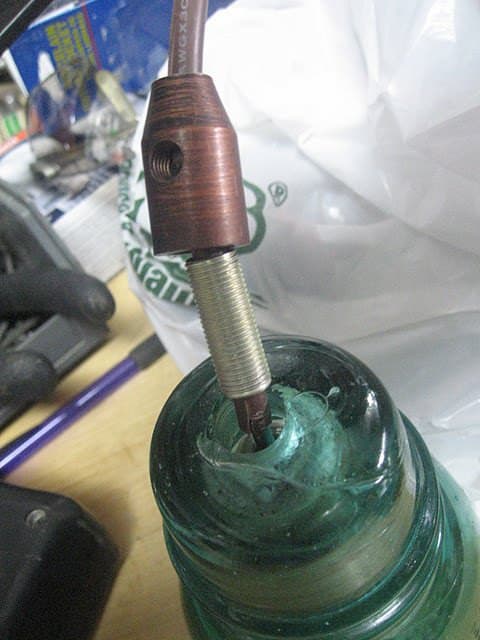 Bestseller No. 1
Sale
Bestseller No. 2
Glass Cutter 2mm-20mm, Upgrade Glass Cutter Tool, Pencil Style Oil Feed Carbide Tip for Glass Cutting/Tiles/Mirror/Mosaic.
【UPGRADED CUTTER HEAD 】Are you worried about unsmooth glass cutting? Now our product can crack this problem as a whole, Premium Carbide glass cutter, sharp and smoother cutting. Absolute precision...
【EASY TO USE】 Anti-skid durable alloy handle, ergonomically designed, reduces wrist fatigue. When pressure is applied, an automatic oil dispensing system keeps the wheel lubricated every time you...
【LARGER CUTTING RANGE】 3 pieces of cutting heads with different sizes in our package, 2-6mm, 6-12mm and 12-20mm, Easy to change the cutting blade for cutting different glass thickness.
Bestseller No. 3
Rustark 3Pcs Premium Glass Running Breaking Pliers and Class Cutter Kit, Heavy Duty Glass Cutting Tool with Rubber Tip, Work Great for Stained Glass, Mosaics, Fusing, Breaking
【What you Get】The glass cutting tool kit contains 1 pcs Glass Running Pliers, 1pcs Breaker Grozer Pliers, 1 pcs alloy handle, 1pcs 12-20mm Cutting Head, 1 pcs 2-6mm Cutting Head, 1pcs 6-12mm...
【Premium Glass Pliers & Breaking Pliers Set】 Made of heavy duty carbon steel for rust-resistance, PVC rubber handle is ergonomic and soft, which allows you to grip comfortably. Adjustable set...
【Come with Rubber Tip】Made from high density synthetic polymers.With plastic tip covers on the jaws, the rubber tip cover protects the glass or mirror from getting scratched or chipped from the...