Nowadays, our planet is literally drowning in garbage. The amount of global waste has reached unimaginable numbers and, unfortunately, very little of it is recycled or reused. According to the World Bank, the global annual waste generation is expected to increase by 70% from the year 2016 until 2050. Not to mention that China's 2017 waste import ban has arisen even more challenging waste management problems for our countries.
So, we are experiencing several environmental concerns that have started from the fact that worldwide landfills and oceans are filled with trash. Not only that unrecycled garbage led to heavy pollution which has resulted in climate changes, but our land and marine ecosystems are also powerfully impacted by the plastic, aluminum, and metal waste.
Thankfully, there are a few creative and innovative minds in this world who have found unique ways to rethink garbage in a way that it will become a valuable asset. Here are 5 examples of creative ways to turn trash into cash:
Scrapshala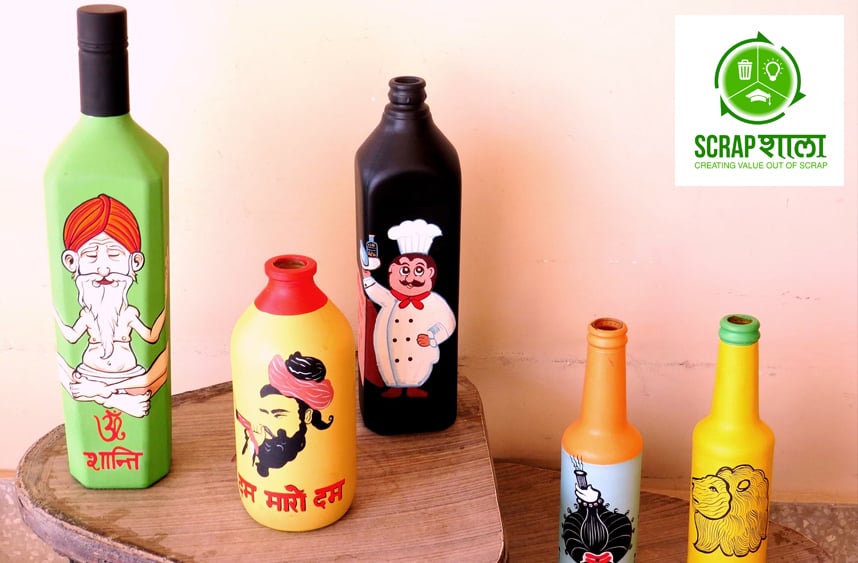 One great example of a unique idea that managed to transform trash, not only into cash but also into art, is Scraphala. The founder of the company is the 28-year old Shikha Shah who decided to leave her job to make a difference in our world through transforming garbage into decorative products.
The company has been started only almost 4 years ago but has already managed to protect our planet from more than 20.000 plastic bottles and about 10.000 kilograms of diverse types of waste. All this waste has been transformed into different unique products including home, garden, and office decorations and accessories, and decorations customized for cafes and restaurants who also promote a zero-waste mindset.
Apart from producing personalized and unique decorations from non-biodegradable materials, Scrapshala also fights global waste pollution through spreading awareness and educating people about proper waste management.
The journey of transforming trash into valuables started when Shikha decided to use her own waste to convert it into something unique. Later on, as her business was growing steadily, she started to collect garbage and waste from the municipal trash corporation. Today, Scrapshala has become so popular that people from across India are sending their waste to the company to get their garbage transformed into decorations, games, or accessories.
Anthill Creations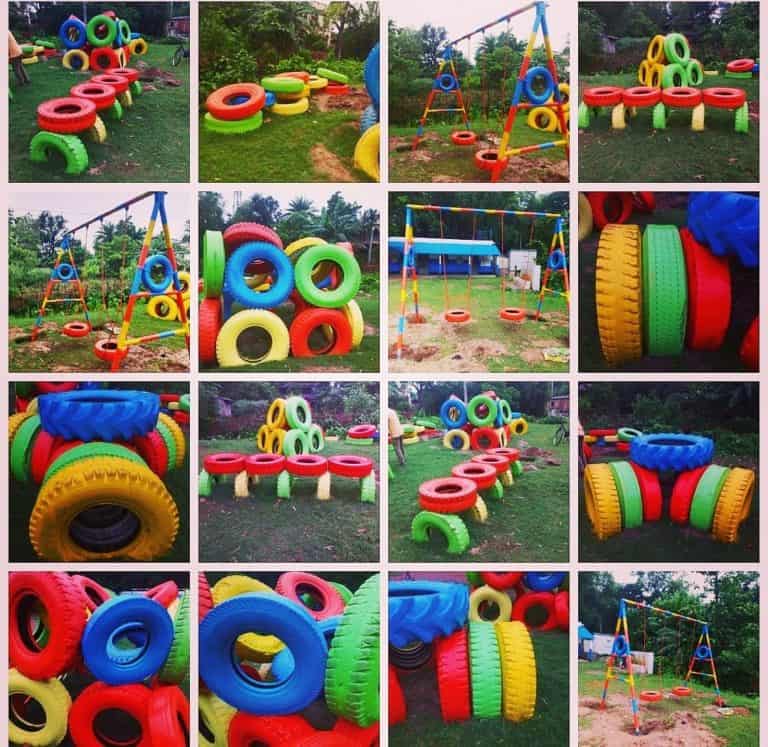 Is there something nobler than helping unprivileged kids to enjoy their childhood? The Anthill Creations team took this kind gesture and combined it with a zero-waste mindset and started a business that helps both our planet and unprivileged kids.
The concept behind Anthill Creations is building low-cost and sustainable playgrounds by using scarp tires and other non-biodegradable materials for underprivileged kids who had nowhere to enjoy their childhood years. Although the company has been founded only 6 years ago, it has already achieved to finish nine projects in four cities across India repurposing about 830 scrap tires to build playgrounds and libraries.
The five IIT Architecture graduates who decided to start Anthill Creations decided to use their training to build play zones for underprivileged kids across India building some of the most colorful swings, slides, and jungle gyms you can ever see. Their projects have become so popular that even the reputable tire company Michelin decided to fund their unique idea.
Apart from putting large smiles on kids' faces and protecting our planet from non-biodegradable materials, Anthill Creations is also devoted to spreading awareness among children about sustainability and recycling.
Recycle India
Recycle India is a concept started in 2015 by a couple who joined the zero-waste initiative. The initiative is based on the principle of sustainability that focuses on reducing, reusing, and recycling waste.
Would you have thought about building a shelter bus stop made only out of plastic bottles? Prashant Lingam and Aruna Kappagantula surely did. And, they had even more great and unique ideas about how to transform trash into something great.
The two who started the Recycle India initiative are very devoted to spreading awareness about reusing and recycling plastic bottles. So, in just one month, with a team of only 20 people, they achieved the construction of a house made out of 5000 plastic bottles.
The startup also collects municipal waste including tires and drums and convert it into unique and personalized furniture including chairs and tables.
Replas
The Sydney-based company Replas is another company that succeeded in transforming trash into profit. The company collects plastic waste in Australia and transforms it into several types of outdoor products including decking, fences, park benches, and signs.
Replas encourages the public to purchase their products made from recycled materials as a way to support the zero-waste mindset in the country. This isn't the only zero-waste initiative in Australia as many companies are focused on sustainability and better waste management practices. Many companies collaborate with waste and recycle solutions providers such as Mil-tek in Australia to recycle their corporate waste properly.
Ikea
If there is a company winning at storytelling to promote one of their best-selling products, that will be Ikea for sure. Would you ever think that the fluffy feather duvets and pillows from Ikea are the result of a bright mind who saw a great opportunity in waste?
The founder of the $44.6 billion worth company Ikea, Ingvar Kamprad, was completely mesmerized by the thousands of chickens who were plucked and strung in the food markets in China. Asking around about what happens to the feathers from the chickens, the farmers told him there was a certain person who was paid to burn them once the chickens have been plucked.
He then offered to take the feathers for free and obviously got a positive response from the farmers. Seeing opportunity in waste, he then used the feathers as a key material for one of his best-selling items: feather duvets and pillows.
The sustainability of our planet is on all of us and we can all make a change by being mindful about recycling or reusing our waste. These 5 examples are a great way to start reconsidering garbage and converting it into something valuable.