Christmas is the time to enjoy, have fun and let your kids have a wonderful vacation. Allow them to roll up their sleeves and bring these brilliant Christmas craft ideas to life!
Melt-free Snowmen
Take some felt and cut out snowmen shapes. Curve out a felt top hat for decorating each snowman. On each side of every snowman you have cut out, punch a hole. Take some baker's twine to string the pieces and they are ready to be hung.
Santa Handprint Craft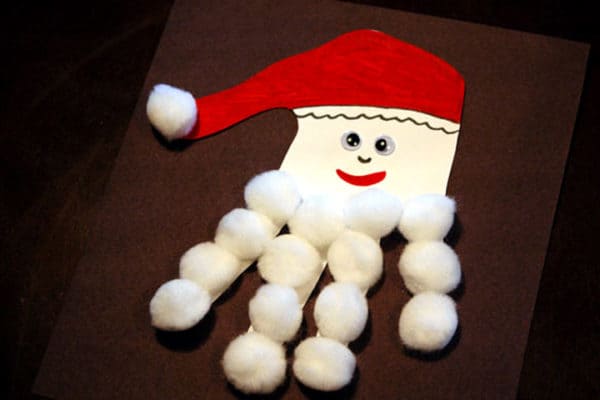 With a black marker, draw a hand outline on white paper. Cut it, and in the thumb area, draw Santa's hat in black and red markers. On the hat top, glue a cotton ball or a pom-pom. To create a fuzzy beard, decorate all fingers with cotton balls or pom-poms. Glue eyes, and then draw nose and mouth with markers. You can stick this Santa handprint craft to a Christmas card, refrigerator or hang it from the Christmas tree.
3D Christmas Card
Take some glossy paper and cut out two circles. Bend one of the circles in half and paste one of its sides to the second circle. Cut a paper ornament topper and glue it to this circle duo's top. On the back of the topper, attach a string. Glue the entire thing to cardstock. Tightly pull the string and fix it to the backside of the card.
Season Opener
Take around 35 to 40 acorns or other varieties of nuts and paint them in varied colors. Allow some time for drying. In the meantime, take a grapevine wreath and hot-glue (with a hot-melt adhesive and glue gun) leaves, pinecones, and other natural objects to it. Spray with white spray paint. Glue the nuts once the wreath dries up. Tie a ribbon, and your wreath is ready to be hanged.
Wrap Star
Make circle shapes in a new kitchen sponge and cut them out. Take a non-sharpened pencil, hot-glue it to a side of every circle, making 'stamps'. After dipping the circles with the paint, decorate scrap paper, newsprint or wrapping paper with cheery dots.