When I came across an abandoned upright piano in the alley, I couldn't resist salvaging the 88 keys. After much deliberation, I built a wood frame with an undulating form, then attached the keys in their original order. The result is a rolling wave, or maybe a sound wave, frozen in time. At over 4 feet long, this has become the focal point of my living room wall. What do you think of my creation? Let me know in the comments below!
Please also visit my Etsy shop for more upcycled pieces.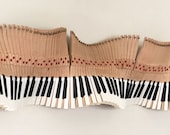 Sound Wave DIY Instructions (PDF)
DIY instructions for making a "Sound Wave" sculpture from old piano keys. It's an ambitious project but you can do it. Let me know if I can provide any other info. Best of luck! -Pat...