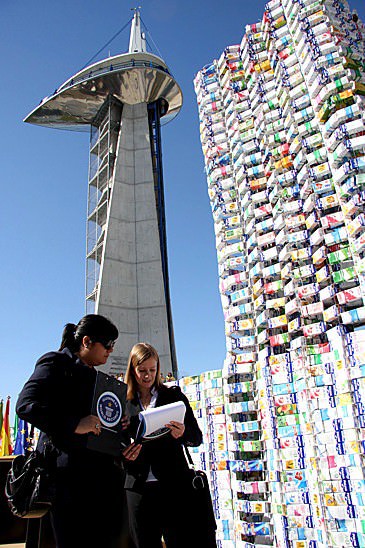 Here is the biggest sculpture ever made with recycled materials! It took place in Granada, Southern Spain, in may 2010. The same record had been broken in Huelva (Spain again) just a couple of weeks before.
The event was sponsored by the local council and RESUR GRANADA (the waste treatment company for the province) and held in the Sciences Park of Granada. The students of the Facultad de Arquitectura de Granada (Granada's Architectural College) had designed an impressive castle shaped sculpture.
Over 5,000 primary school children had collected around 50,000 milk cartons (tetra packs) and the 3 winning schools, that is the schools who had collected the most cartons, attended the ceremony and got to see the final product of all their hard work. The winning school had managed to collect 4,500 bricks in just the two weeks they were given. Dimensions were 29 metres (95 ft 1in) in length, 14.07 metres (46 ft 1in) in width and 7 metres (22 ft 11in) in height.