Once you find the proper gift to give, the battle is only half won. Now you need to wrap it appropriately and for that, you need suitable materials. But don't worry! Your house must have a lot of repurposed materials, so why not try using them? Find inspiration with these clever Wrapping Ideas!
1. One of the prettiest Wrapping Ideas: Jars as gift wraps!
Ever tasted mayo or pickle in jars? Do not trash the jars because you can easily recycle them for use as gift wraps. Place your gift in the jar amidst some colored tissue and then, for some more style, tie the jar with a bow.
source
2. Magazines as bows
If there are old magazines at your home, you can always cut out gift bows from them. It would be great to wrap your gift and then top it up with a uniquely beautiful bow.
source
3. Paint Chips as tags
Do you throw out paint chips? Stop doing that! Simply take a hole-punch and a pair of scissors, and turn your paint chips into colorful gift tags.
source
4. Brown paper bags as gift bags
The unattractive brown paper bag that you are thinking of doing away with can be transformed to a gorgeous gift bag. Just grab your stencil and start working on these bags.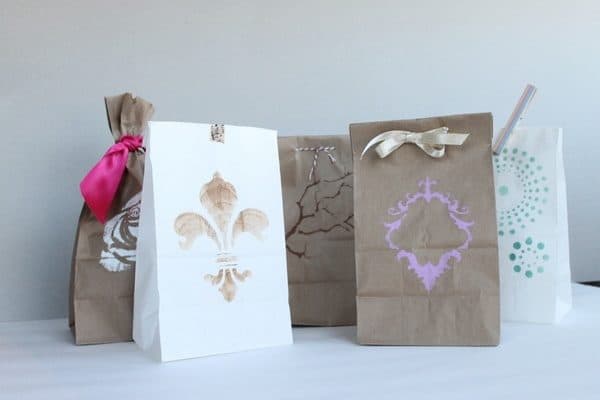 5. Cereal Boxes as gift packages
This would undoubtedly be a great use for empty cereal boxes, made of thin cardboard or thick paper. The process is extremely simple; all you need to do is cut and fold suitably.
6. Tree parts as wrapping materials
Borrowing from nature is definitely one of the best things. Little branches, dried flowers, seed pods, pine cones and pine sprigs do indeed make great wrapping materials and accessories.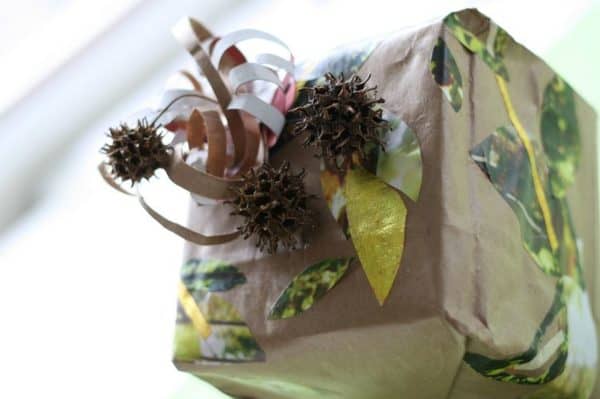 7. Office Supplies as gift wrappers
Possess loads of odd things in your office supply drawer? They can help you wonderfully in gift wrapping- envelopes, old papers, and labels can come of great use.
8. Fabric Material as wrapping bag is one of our Wrapping Ideas that can be used again and again!
Do you know what Furoshiki is? It is the traditional Japanese art of using a cloth to wrap and carry goods. You can happily use this concept for gifts and try out gift wrapping with something like a colorful scarf.
9. Clay Flower Pots as gift boxes
Clay power pots are available in different sizes and shapes in your garden. Just pick up one, clean it, paint the outside and then place the present inside. It would be great if there is a dish for catching water with the pot. You can simply invert the dish over the pot to make it the gift cover.
10. Old Calendars as Gift Wraps are fun Wrapping Ideas – find the month of the recipient for a personalized touch!
Calendars, how pretty they might be, are technically useful only for 365 days, and after that, they are as good as old paper. So, instead of throwing them away or dumping them at a corner of the house, keep them handy for wrapping gifts for any occasion.
You can also turn Clothes Pins Into Gift Tags