I made my Upcycled Mini Winter Model Village using plywood for the cabins. I upcycled fiber-optic lighting from an old lamp and used toothpicks to create a log cabin look for the walls of the little homes.
This Upcycled Mini Winter Model Village is a perfect project to build with the kids!
First, I drew out the walls and roofs of the houses onto some thin plywood. I cut the pieces out with a hacksaw, then glued the homes together with a hot glue gun. Then I realized that toothpicks made a perfect to scale log, so clad my houses with toothpicks to get that log cabin look.The plain box I bought for £5, but this could be made from pallet wood too! I crafted the trees from some old rope and wire. LED lights cost £1, and the tree lights are from an old fiber optic nightlight lamp my daughter no longer requires.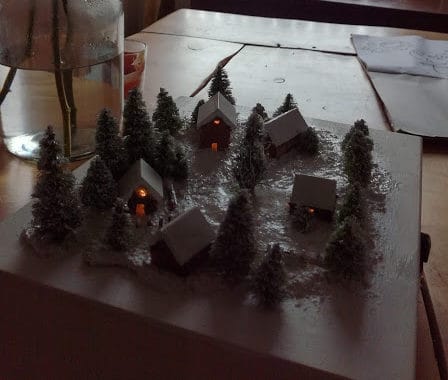 Make a decorative Pallet Headboard with stenciled designs! Turn License Plates into Planters!