We continue our series of posts interviewing "recycled art" crafters & artists. This week, we interviewed Agatha Lee (alias Agy) from the blog Green Issues as she is one of our active crafters and she bring very nice ideas around sustainable fashion. If you want to make your wardrobe last longer without hitting the stores, and know how to make sustainable fashion choices, you should visit Agy blog. If you think you deserve to be featured in the next interview, please, drop us an email.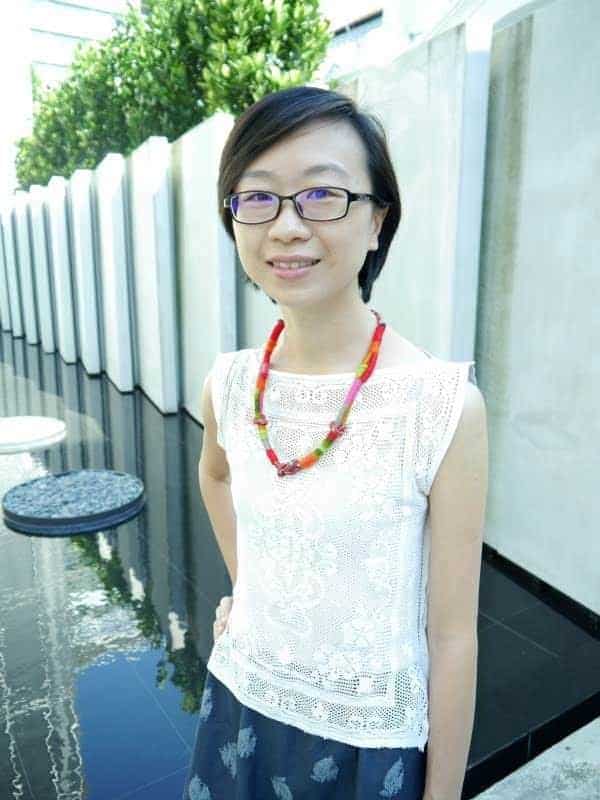 Tell us a little more about you? Who you are? Where are you from?
I am Agatha aka "Agy", an eco designer who loves to make things, particularly out of waste textiles, and I am based in the sunny island of Singapore. I love sewing new clothes from old clothes, and making them more wearable instead of throwing them away. In fact, I am very passionate about sustainable fashion, and have just set up a for purpose organization in Singapore, Connected Threads Asia, to bring awareness to the social and environmental impacts of the fashion industry.
Why do you craft?
It's fun, and it's very therapeutic. If I don't make or design something, I get very agitated.
How did you learn?
I used to watch my mother make our clothes – she is very good in sewing, knitting and crochet – and then I learnt a little in home economics in secondary school. But most of the skills are self-taught over the past 10 years.
Since when are you working with recycled & upcycled materials?
Since 2005. Wow, that's ten years already!
What are your can't-live-without essentials?
My sewing machine, sewing needles and thread.
How would you describe your style?
I would say "easy and carefree".
How is your workspace, how do you make it inspiring?
My home is my workspace but as our flat is small I don't have a specific corner. I just use the dining room table and clear up after a project. It can be inconvenient and messy though especially when I can't finish a project within the day!
What sorts of things are inspiring you right now? Where do you look for inspiration?
Origami is inspiring me now – I was inspired by a visit to Hong Kong where I met fellow artist, Phoebe Lam of Stitch Paperie – she combines sewing with paper art. I love to take walks, meeting people and observing things, anything – buildings, plants, things people wear. I try to avoid the internet because it can be constraining.
When do you feel the most creative?
In the morning, especially around 7am right after breakfast, and it's quiet!
We live in such a mass-produced, buy-it-now society. Why should people continue to make things by hand?
People treasure hand-made items more, and you can see how much love and care went into it.
What is your favorite medium to work in?
I love working with textiles – my favourites are jersey and denim.
What are your tips for people who'd like to start crafting?
Don't be discouraged the first time you make something and it doesn't turn out well. Good things require practice and time, just enjoy the journey and you will grow.
What is your guilty pleasure?
Eating!!
What is your favorite thing to do (other than crafting)?
I love to read! It does take me away from my work but it is a good break.
Anything else you would like to tell to the "recycling community"?
To always explore and learn new things – never stop!
To finish, we've seen that you have an active blog. Since how many times are you blogging? Is that a full-time job or just a hobby to share your personal creations? Any websites that our readers should not miss?
Yes, I blog at Green Issues by Agy. I try to blog once a week but lately I have been very busy. This is my full-time job, and I also teach upcycling at workshops too.
Thanks a lot Agatha for this interview! :)
To see all the posts by Agatha, it's here.