A mini wine rack can be simultaneously decorative and organizational – a practical idea and a great gift for people who love handmade items and wine. Today I recommend mini handmade wine racks made out of pallet wood; you can make one very quickly by yourself.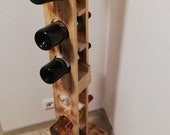 Wine rack pallet furniture
It is a wine rack made from a pallet. It is for 6 bottles which can also be inserted with the bottom first. Finishing such as flame and glazing in the desired color are also possible. When asking, do...